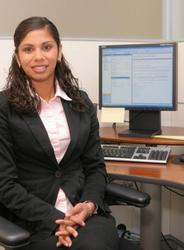 I see this as the stepping stone to starting my career after college
Washington, DC (PRWEB) June 8, 2009
The prospect of gearing up for the job market amidst tough economic times is becoming brighter for 20 Orphan Foundation of America students who have just arrived in the nation's capital after semester break. For others in Ohio, New York and North Carolina, the outlook is more positive too.
The students are part of a unique internship program sponsored by OFA, a non-profit that helps thousands of youth transition out of foster care into independent adulthood. The foundation's InternAmerica program has placed these young people in diverse professional settings -- including a Fortune 500 corporation, a regional newspaper, a video production studio, various national non-governmental agencies and Congressional offices on Capitol Hill.
"Today's job market is more competitive than ever," says Eileen McCaffrey, OFA's executive director. "For youth without family support, connections and work experience to rely on, good paying skilled jobs are out of reach - and internships are very difficult to secure. The internships we put together don't just help these young people get a foot in the door; they offer strong networking opportunities, add prestige and substance to their résumés, and help them become assets in the workforce."
OFA's Washington interns reported to their jobs on June 1 and will remain until July 12. In other states, internships are ongoing and, for many students, their workplace experience is fortified by professional development seminars offered by experts from the local business community.
"I see this as the stepping stone to starting my career after college," says Sarah Lucas, a graduate of State University of New York at Geneseo, who is interning in the office of Congresswoman Louise Slaughter (D-NY). "I feel fortunate to be immersed in a working environment bringing on-the-job experience that you can't absorb from a textbook."
Employers stand to gain as much as the young people in their charge. A recent survey by the National Association of Colleges and Employers found that 83 percent of employers reported higher retention rates for those with internship experience. As an HR director who managed OFA interns last summer commented, "We see the human resource pool shrinking every year. It's a challenge to find and keep good people. These interns are bright and motivated; and if we can get them back after graduation, it's a win-win for both of us."
Note to editors: Orphan Foundation of America leaders, interns, graduates of the program, and internship employers are available for interviews. Visit http://www.orphan.org for a listing of interns and employers.
About Orphan Foundation of America
Founded in 1981, Orphan Foundation of America is the only national organization focused solely on education, mentoring and workforce development for the 26,000 teens who age out of the foster care system each year. OFA awards $15 million annually in funding, enabling thousands of young people to attend college and specialized training programs, ready themselves for the workplace, and make the leap from foster care to success. For more information, visit http://www.orphan.org.
###