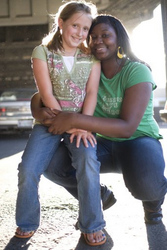 Washington D.C. (PRWEB) April 29, 2009
Today there are nearly 500,000 children and youth in America's foster care system. As the economy has worsened, reports of abuse and neglect have increased in some areas of the country and are expected to rise. Of the 26,000 young people who age out of foster care each year, many end up facing life's challenges alone without the support and education they need to compete in the workplace. In this economy, they are more likely than ever to endure homelessness, poverty, compromised health, unemployment, incarceration and other adversities.
Each May, National Foster Care Month provides an opportunity to focus public attention on the plight and potential of children in foster care as well as teens aging out. The child welfare community is calling on every citizen to do something positive that will change a lifetime for a child or young adult in foster care -- as foster parents, volunteers, mentors, employers or in other ways.
If nothing changes in the United States between now and the year 2020:

Nearly 11 million children confirmed cases of abuse and neglect will be reported;
8,000 children will die of abuse or neglect;
7.2 million children will experience the foster care system;
240,000 youth will age out of foster care with inadequate support and resources to compete in the workforce and build successful lives.
Thousands of dedicated foster families, caring individuals and organizations already support young people in foster care. Thanks to these unsung heroes, many formerly neglected or abused children and teens will safely reunite with their parents, be cared for by relatives, be adopted by loving families and/or make a successful transition to independent living.
Communities are urgently seeking many more unsung heroes to come forward for our nation's most vulnerable children so they may realize their full potential. Across the country, people just like you are:
Raising their voices to educate federal and state public policy leaders on the issues facing children and families.
Serving as foster parents, relative caregivers, mentors, advocates, social workers and volunteers.
Sponsoring scholarships enabling foster youth to go to college and trade school, as well as professional internships to prepare them for the workplace.
Encouraging their employees to volunteer their time as mentors, professional coaches, and role models for foster youth or young families with children in foster care.
Donating gift cards, school supplies, household gifts and other items to brighten a child's life in foster care.
Contacting their Congressional leaders, asking that foster care and the future of these children be made a national priority.
Visiting fostercaremonth.org to find out more about the many ways to get involved and make a lasting difference for America's children.
No matter how much time you have to give, you have the power to do something positive that will CHANGE A LIFETIME for a young person in foster care. Visit fostercaremonth.org for more information. In addition, the following national organizations advocate and provide critical support for foster youth:
Casey Family Programs
Promoting advances in child-welfare practice and policy
Children's Rights
National advocates for child welfare reform
Foster Care Alumni of America
Representing 12 million alumni of foster care
Foster Family-based Treatment Association
Treatment foster care providers
FosterClub
The national network of young people in foster care
National Association of Social Workers
Membership organization of professional social workers
National Foster Care Coalition
Collaboration to promote policy improvement and public awareness
National Foster Parent Association
Representing thousands of foster families nationwide
Orphan Foundation of America
Education, mentoring, and workforce development for youth aging out of foster care
Voices for America's Children
Member organizations committed to advocacy on federal, state and local levels
###