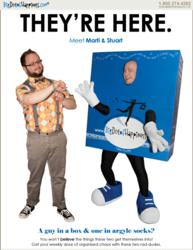 Big Dot of Happiness isn't just a brand. We have a company culture that celebrates life.
~ Sherri Yukel, Founder and President
Menomonie, WI (PRWEB) February 09, 2012
BigDotOfHappiness.com, a popular online retailer for party favor ideas and personalized party supplies, celebrates their core values and quirky company culture with the launch of a Web video series. Company mascots, one in a box and one in argyle socks, get caught in the act as they interpret a different core value in each video and have a little fun along the way.
"We want everyone to know who we are, not just what we sell," says Sherri Yukel, founder and president of all Big Dot Shops. "Big Dot of Happiness isn't just a brand. We have a company culture that celebrates life. We work hard so we can play hard and Marti & Stuart display that exactly."
Marti & Stuart, although polar opposites, are Big Dot best friends who will discover each has their own unique qualities to offer depending on the adventure. Marti brings the Big Dot Box That Rocks to life as he "Fails Forward," searching for what he excels at doing. Stuart is the reliable one of the two who sometimes needs a little coaxing to take risks. Marti is able to get Stuart into a dance aerobics class as they "Reinvent Ourselves Indefinitely."
By creating these two unique characters, customers can put a face on Big Dot and learn about the company's culture. "People come to us searching for 1st birthday party themes or birthday party hats, but what they find is a Big Dot family," says Yukel. "Marti & Stuart bring our tagline to life. Marti is all about making life's occasions fun while Stuart gets the job done, it's about time."
Catch Marti & Stuart in a variety of shenanigans every Thursday on the Big Dot of Happiness YouTube channel. Coming Soon: Marti & Stuart "Valentine's Day" special on February 9th and Marti & Stuart head to the gym to "Reinvent Ourselves Indefinitely" on February 16th.
About Big Dot of Happiness, LLC
Big Dot of Happiness, LLC, is an event party company and the originator of various games, invitations and themed party supply products called "Big Dot Originals." With personalized invitations, impressive party favors and unique party decorations, Big Dot of Happiness, LLC, makes everyday parties into extraordinary events. Making life's occasions fun. It's about time. "We create remarkable smiles by embracing a remarkable culture."
Find Big Dot of Happiness on Facebook for inspiration and exclusive deals just for fans.
Contact:
PR Coordinator
Big Dot of Happiness, LLC
1.800.274.4282
http://www.bigdotofhappiness.com
###