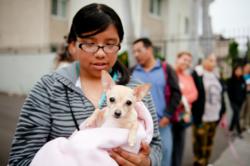 The zip code look-up tool is another innovative resource to connect pet owners with advice and guidance that improves the health and well-being of their pets
Los Angeles, CA (PRWEB) January 29, 2013
In honor of National Spay and Neuter Month in February, Los Angeles-based animal welfare organization Found Animals Foundation today announced the launch of its new zip code look up tool to promote low-cost or free spay and neuter services. The tool can be found at: http://www.foundanimals.org/pet-spay-neuter/spay-neuter-locations-la.
In beta testing for several months, the zip code look up tool enables pet owners to enter their home zip code to find affordable spay and neuter locations in their area. Research shows that residents in the Los Angeles metro area don't have to drive more than 15 miles to find a low-cost resource to spay or neuter their pets.
"We are proud to be the largest Los Angeles-based supporter of low-cost and free spay and neuter services in Los Angeles," said Found Animals Executive Director Aimee Gilbreath. "The zip code look-up tool is another innovative resource to connect pet owners with advice and guidance that improves the health and well-being of their pets."
Approximately 200,000 pets enter Los Angeles metro area shelters each year, but about 100,000 of those animals fail to find a new home and are ultimately euthanized. Spay and neuter surgeries reduce local euthanasia rates by decreasing the number of unwanted litters entering shelters. Spay and neuter is currently the most effective form of birth control for cats and dogs, and is vital to reducing the estimated 50% euthanasia rate locally.
By making low-cost spay and neuter surgeries accessible to all pet owners throughout metro Los Angeles, the zip code look up tool helps to eliminate two of the barriers to having pets spayed or neutered – cost and access.
Spay and neuter has many benefits to pets (and their owners), including:

Spaying your pet nearly eliminates breast cancer and totally prevents uterine cancer and infections.
Neutering eliminates the possibility of testicular cancer and reduces the risk of prostate cancer.
Male pets will have a reduced urge to roam in search of a female for mating. This also reduces the possibility of fights, injury, poisoning, accidents and contracting diseases.
Over the past five years, Found Animals has subsidized more than 135,000 surgeries through its support of Spay4LA, SNP LA, and FixNation programs. These organizations provided more than 46,000 low-cost surgeries in 2012 and project to increase that number by approximately 10% in 2013 to over 51,000 surgeries in Los Angeles County.