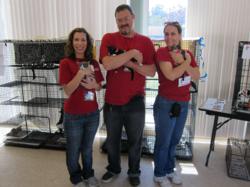 Volunteers from all walks of life are brought together because of one uniting factor, their love for animals.
Los Angeles, CA (PRWEB) March 28, 2012
Found Animals seeks to improve the Los Angeles community and homeless pet population through their volunteer programs. Established in February of 2010, the Found Animals' Volunteer Program provides residents of Los Angeles with opportunities to help reduce animal shelter euthanasia and increase pet adoption through various programs. Volunteers have the option of working directly with animals at Adopt & Shop, The Cat Adoption Center and Spay4LA or in an administrative role at their pet-friendly office. The LA animal volunteer program has grown progressively by 225% since the end of 2010 with approximately 134 active volunteers covering 157 shifts and volunteering 413 hours each week.
Adopt & Shop - Found Animals' first retail adoption store, located in Lakewood, CA, houses shelter cats and dogs who are showcased to encourage shoppers to become adopters. Volunteers working at Adopt & Shop assist with the following: Adoption counseling and pet matchmaking, Dog walking, Socializing and grooming pets, Photography, Videography, and much more!
Cat Adoption Center at SEAACA - located in Downey, CA, houses shelter cats that are available to go to loving homes. Volunteers at the Cat Adoption Center assist with the following: adoption counseling and pet matchmaking, socializing and grooming cats, photography, videography, and much more!
Spay4LA - Spay4LA is a mobile sterilization unit devoted to spay & neuter in the South Los Angeles area. Volunteers at Spay4LA will assist with the following: assisting the medical team and preparing supplies, answering questions from the public, and helping clients complete paperwork.
Office Volunteers – For volunteers who have the desire to contribute to Found Animals' mission by providing administrative support for their various programs. Administrative Volunteer positions are crucial to the organization since they ensure that programs devoted to Pet I.D., Pet Spay & Neuter and Pet Adoptions have the support needed to continue making a positive impact on pets' lives.
According to Marcela Ponce, Found Animals Volunteer Program Manager, "The fulfillment that comes from donating your time to a very worthy cause is immeasurable. Volunteers from all walks of life are brought together because of one uniting factor, their love for animals. This means that not only will you be contributing your time to help animals in need; you will also be making lifelong friends!"
To assist with the success and expansion of the animal volunteer program, a website update was implemented on the Found Animals site to readily make more accessible information about volunteering with animals and allow current volunteers to quickly log and access their schedules.
New features on the page include step-by-step instructions and requirements to apply to be a volunteer, descriptions of different volunteering locations and volunteer duties and responsibilities. The website is now linked to Volgistics, an online volunteer management database, which allows for active volunteers to easily log their hours from the comfort of their own homes. In addition, the updated site features Volunteers of the Month and testimonials from active animal volunteers.
The new updates have resulted in a 34% increase in volunteer applications submitted, a 50% increase in time spent on volunteer pages and decreased bounce rate by 20%.
In addition to the improved website features, Found Animals lowered their volunteer age to 14. Minors interested in volunteering with animals must get parental approval and submit an essay on why they want to volunteer with animals in addition to the regular application.
For more information on volunteering with Found Animals today, please visit http://www.foundanimals.org/get-involved/volunteer.
About Found Animals Foundation
Found Animals Foundation is a privately funded Los Angeles based non-profit organization dedicated to animal welfare issues and led by business and medical professionals. The Found Animals team works directly within the animal welfare community to improve animal shelter processes, fund pet sterilization research, promote effective animal welfare policy, and provide funding to area shelters and spay & neutering clinics. The organization also sponsors and promotes pet adoption, pet spay & neutering, microchipping programs, and various animal and pet-related events.