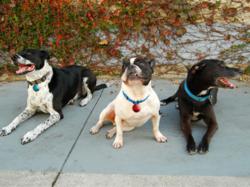 We applaud the city of Los Angeles for their best practice policy that harnesses licensing revenue to support subsidized spay and neuter services for low income pet owners and we are thrilled to continue working with Animal Services.
Los Angeles, CA (PRWEB) January 12, 2012
With the hopes of increasing the number of pets licensed citywide, Found Animals Foundation– a Los Angeles based non-profit animal welfare organization – has partnered with the Los Angeles Department of Animal Services to launch a new pet licensing promotion. If successful, the campaign could raise an additional $680,000 annually for the City's spay neuter fund and provide 10,000 more free surgeries each year for low income pet owners.
The promotion is a multi-pronged effort and the culmination of several years of work by the Found Animals Foundation and Los Angeles Animal Services (LAAS) to make licensing easier for pet owners. Elements of the campaign include: new online tools for pet owners, an amnesty period and an outreach campaign. Representatives from Found Animals and LAAS will be presenting the promotion to the Los Angeles City Council at 10:00 a.m. on Friday, January 13th. The event will be held in Council Chambers at the opening of the regularly scheduled meeting.
Los Angeles Animal Services has recently updated its licensing processes with a focus on convenience. A new online service allows dog owners residing in Los Angeles to purchase or renew their license online from the comfort of their home or office and bypass a trip to their local animal care center. In addition, amnesty from late fees and penalties related to licenses is being offered through March 31st, 2012. A one year license for an altered (sterilized) dog costs just $20 and a generous $7 (35%) of that amount is earmarked to help fund the city's low income spay neuter program.
Unfortunately, less than one third of the 350,000-500,000 dogs in the city of Los Angeles are currently licensed. Increasing licensing compliance has many benefits for dog owners and the community at large. A current license helps Animal Services quickly reunite lost pets with their owners and generates much needed funds to support subsidized spay neuter programs – both of which help reduce intake and euthanasia at city shelters. Doubling the number of licenses sold would raise an additional $680,000 for spay neuter funds each year, enough to pay for an additional 10,000 surgeries for low income pet owners.
All dogs residing within the city limits are required to be spayed or neutered, unless they meet certain exemptions. To license your pet either online or at any of the six shelters run by LA Animal Services, you must provide proof of your pet's current rabies vaccination and spay or neuter. Licenses for spayed or neutered pets are $20, and licenses for unaltered pets are $100 (plus applicable breeder fees).
"Licensing is a safety net for your pet. One in three pets will get lost at some point in their lifetime, and without proper identification, many of those pets are never reunited with their families. Licensing is one of the most effective ways to ensure that a lost pet will be safely and swiftly returned," said Brenda Barnette, General Manager of the Department of Animal Services.
In order to raise awareness of the importance of pet licensing as well as the new online tools and amnesty period, the Found Animals Foundation is sponsoring and managing a broad outreach campaign. Found Animals has donated graphic design and production costs for 100 bus benches and 115 bus shelter advertisements that will be placed around the city, as well as supporting radio ads, posters, and flyers and more to help spread the word. In addition, Found Animals has also developed an easy online tool at http://www.LApetlicense.com to help pet owners throughout the Southland quickly identify their licensing agency information including prices, forms, and web links.
"We applaud the city of Los Angeles for their best practice policy that harnesses licensing revenue to support subsidized spay and neuter services for low income pet owners and we are thrilled to continue working with Animal Services on this innovative public-private partnership to benefit the pets and people of our city," said Aimee Gilbreath, Executive Director at the Found Animals Foundation. "The Found Animals Foundation thinks that the money we are spending on this outreach campaign is a great investment that will pay off many times over in the years to come through more licenses sold, more lost pets returned home, and more funding for spay neuter in Los Angeles.
Los Angeles City Council Member Eric Garcetti, a longtime advocate of pet licensing added, "I encourage all Angelenos to take advantage of this amnesty opportunity and the new online tools available. Please license your dog – its good for you, your pet, and our community."
To learn more about licensing or to license your pet today, please visit http://www.LApetlicense.com.
About Found Animals Foundation
Found Animals Foundation is a privately funded Los Angeles based non-profit organization dedicated to animal welfare issues and led by business and medical professionals. The Found Animals team works directly within the animal welfare community to improve animal shelter processes, fund pet sterilization research, promote effective animal welfare policy, and provide funding to area shelters and spay/neutering clinics. The organization also sponsors and promotes pet adoption, pet spay and neutering, microchipping programs, and various animal and pet-related events.
About Los Angeles Animal Services
Los Angeles Animal Services is one of the largest municipal shelter systems in the United States with six shelters serving approximately 60,000 animals annually and responding to 20,000 emergency calls involving an animal or person in danger each year. Visit us on the web at http://www.laanimalservices.com
###