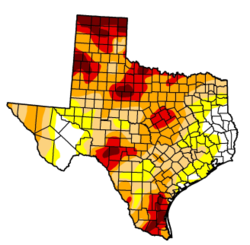 Some customers were poorly serviced by 'Chuck-with-a-truck'.
Dallas, Texas (PRWEB) May 27, 2013
By all measures, North Texas is going to have another dry and hot summer. Since the region is already in a drought condition (source: http://droughtmonitor.unl.edu/), the condition of the expansive soil is only going to degrade even further. Last year, the North Texas region experienced a spike in foundation repairs during summer due to the extreme drought. "Some customers were poorly serviced by 'Chuck-with-a-truck' kind of companies, says Julie Goines from Premier Foundation Repair Inc. Flight-by-night companies that sprung up and disappeared before the summer was over, leaving some home owners without further support."
The experts at Premier Foundation Repair Inc have been repairing foundations in Dallas for over 30 years and are not leaving anytime soon. In fact, to handle to extra load, they have expanded their staff to better service their customers. If a homeowner suspects there may be foundation problems with their residence, they should not wait to have it checked out. Many times things can be improved by fixing the root cause of the foundation problems, like drainage, vegetation around the house or proper irrigation.
Premier Foundation Repairs Inc offers free inspection and consultation in addition to financing if needed by the home owners. Using the financing option allows them move forward and not delay the foundation repairs before things get worse.
Call Premier Foundation Repair Inc or visit their website for ideas on how to prevent foundation repairs and make your inquiries about your residence's situation.
------
Premier Foundation Repair Inc.
http://www.premierfoundationrepair.com/
3767 Forest Ln, Dallas, TX 75244(972) 417-0823
(800) 705-7370