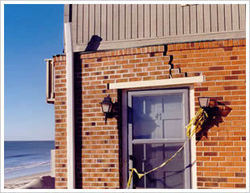 Calimesa, CA (Vocus) November 12, 2010
Don't get caught with a faulty foundation this fall. ConcreteNetwork.com explores costs associated with repairing distressed foundations that have been affected by settlement or movement. Dependent upon many variables, the site explores foundation repair cost for the two most used repair methods: slabjacking and piering.
Slabjacking is often the most commonly used method of correcting smaller slabs of sunken concrete, such as residential slabs by pumping a cement grout through small, strategically-located holes. These projects typically cost $150 per hole.
For larger problems, especially those found in foundation shifting, piering is typically used to lift and stabilize the foundation. The average home can run about $10,000-$14,000 using this method.
Other variables affecting foundation repair cost can include hiring a structural engineer, a geotechnical engineer to prepare a soils report, obtaining required permits and more. Hidden obstacles that may arise throughout the project can also add to the final costs.
Although repair costs can get expensive, these repairs are crucial to protecting the value of the home. For a full list of other variables to consider, and more foundation repair information, visit ConcreteNetwork.com.
Established in 1999, ConcreteNetwork.com educates consumers, builders, and contractors on popular decorative techniques and applications. These include stamped concrete, stained concrete, concrete countertops, polished concrete, and much more. Over 11 million people visited ConcreteNetwork.com in 2009 to research, get ideas and to find a contractor.
The site excels at connecting buyers with local concrete contractors through its Find a Contractor service. The service provides visitors with a list of decorative concrete contractors throughout the U.S. and Canada, and is fully searchable by more than 20 types of decorative concrete work in over 200 regional areas throughout North America.
Article photos courtesy of Ram Jack Systems Distribution, LLC in Ada, OK.
###