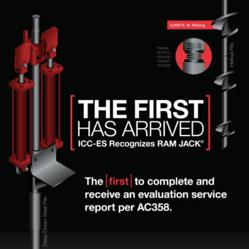 "When ICC-ES issues a report on an evaluated product, code officials know it is code compliant and will result in structurally sound buildings.
Durham, North Carolina (PRWEB) April 11, 2013
The International Code Council–Evaluation Service developed Acceptance Criteria (AC), to establish a baseline against how an innovative product can be objectively measured. The ICC-ES, a highly respected and critical link to building code officials, use a unique process to evaluate the strength, integrity and environmental safety of helical piers in the foundation repair industry.
"The adoption of acceptance criteria AC358 and having the ESR-1854 completed on Ram Jack Foundation Systems are major milestones, not only for Ram Jack, but for the helical industry as a whole," said Darin Willis, Director of Engineering with Ram Jack. "Having ICC-ES evaluation reports will make it easier to specify and design helical foundation systems. Engineers, designers and code officials can expect a higher quality and reliability from helical foundation systems by insisting on ICC-ES Evaluation Reports".
The commercial building code requires all helical pier installations meet the ICC-ES 358 Acceptance Criteria for foundation repair projects. Currently, only Ram Jack and two other companies in the country are compliant to the specific requirements. Rick Sykes, President of Ram Jack Foundation Solutions of Durham, North Carolina says, "with the rate at which this industry is growing, we can only suspect that residential building code officials will follow suite requiring ICC-ES Evaluation Reports on residential foundation repair projects, as well."
"As with all ICC-ES reports, the Ram Jack report will save building departments countless hours when evaluating building plans that specify Ram Jack Foundations Systems," said Yamil Moya, Staff Engineer with ICC-ES. "When ICC-ES issues a report on an evaluated product, code officials know it is code compliant and will result in structurally sound buildings. ESR-1854 provides building professionals with comprehensive details by which to determine the benefit of using Ram Jack's foundation system for a project, as well as for building officials when approving plans."