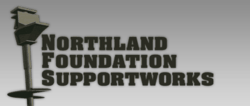 This was a challenging project but our crews were able to complete the installation of the four helical piles in one day.
Rochester, MN (PRWEB) January 05, 2012
In December of 2011, Northern Natural Gas (NNG) headquartered in Omaha, NE, contacted Northland Foundation Supportworks and asked them to stabilize a settled heater building at their substation near Sanborn, MN. The substation is located on a property adjacent to low-lying wetlands. The lightly-loaded structure was originally supported on two horizontal "I" beams spanning the building's width and set on top of 16-inch diameter concrete pilings. Over the course of several years, two of the pilings on one end of the building settled ten inches. NNG was concerned that the settlement-induced stresses in the high pressure gas pipe lines could lead to failures in the lines or the connections. NNG further requested that the building be lowered and leveled as close to the ground as possible to allow for easier entrance and exit.
Northland Foundation Supportworks was ready to take on the challenge. NFS collaborates closely with Foundation Supportworks to install solutions to its clients' challenges. This collaboration means that engineers, both geotechnical and structural, dedicated to stabilizing shaky foundations and preventing the occurrence of shaky foundations for commercial business sites are involved from a project's beginning through to its completion. From bid to install each member of the NFS team and its collaborators is there to provide his or her expertise making sure the job is done right.
Subsurface information was not available for the Northern Natural Gas Substation project in Sanborn, MN. However, the piles were installed to torsional capacities of at least 2,250 ft-lb to provide a conservative design load of 10 kips/pile with a factor of 2,250 ft-lb with a factor of safety of 2. Model 288 (2 7/8-inch OD x 0.276-inch wall) helical piles with an 8"-10"-12" lead section were advanced to depths of 19 to 21.5 feet. NFS first removed about 12 inches of frozen soil at the surface with a jack hammer in order to start the lead sections.
Care was taken by NFS's attentive and conscientious team during pile installation not to damage a photovoltaic solar panel and overhead gas lines. After all four piles were installed and elevations set, new "I" beams were placed on the pile caps. Floor jacks were used to lower the building onto the new beams. One side of the structure was lowered nine inches and the other side raised one inch to bring the building back to level. A portable stick welder was used to weld the structure to the beams and the beams to the pile caps. "This was a challenging project but our crews were able to complete the installation of the four helical piles in one day" said Nate Proper.
NFS expertly installs top quality Foundation Supportworks helical piles in Iowa, Minnesota, Wisconsin and South Dakota. They are members of the Builders Exchange of Minneapolis. NFS is an innovative company intent on delivering high quality solutions to meet its customers' needs. NFS staff members regularly speak with general contractors, geotechnical engineers and structural engineers to keep up to date on new industry developments and to promote collaborative relationships that benefit its clients. NFS frequently works on new construction being built in unsuitable soil to prevent foundation problems. Recent jobs NFS has taken on include: Gunderson Lutheran Cogeneration System, the City of Sioux Falls, the Hampton Inn of Rochester, MN as well as several Northern Natural Gas Substations.
###