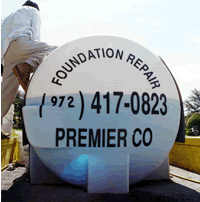 These techniques have been proven and in use for over 60 years
Dallas, Texas (PRWEB) September 20, 2011
Even with the heat wave over, North Texas homeowners can't afford to let their guards down. Due to lack of any considerable rain, their home's foundations are still under constant stress caused by the shrinking soils. Homeowners can now make use of a widely known solution, routinely used in commercial constructions projects, soil stabilization.
The technique of soil stabilization allows the homeowners to be proactive in modifying the clay's behavior and therefore preventing foundation repairs "The properties and effectiveness of these chemicals has been confirmed and consequentially applied in commercial building projects since the late 1950s." – says Julie from Premier Foundation Repair Inc in Dallas, Texas.
As early as 1958-1960 several studies had been brought to completion showing how the proper application of these safe chemicals (mostly a combination of lime-fly ash and other compounds), did in fact improve, and stabilize, Texas' expansive soils.
By 1970, the U.S. Air Force had developed the Soil Stabilization Index System (SSIS) which was originally introduced by Texas A&M. Today civil engineers incorporate these techniques in almost every major public work, particularly highway building and airports where large areas on concrete rely on the grounds for direct support.
Most homeowners are not aware that this option is available to them, and often are not presented with such solutions by the local foundation repairs companies. At a consumer level, soil stabilization can be used for a residence's foundation but also for in-ground pools, driveways, patio slabs and other situations where the swelling and shrinking of the ground can cause damage to the structure.
Premier Foundation Repair Inc in Dallas strongly recommends homeowners to consider it - "Foundation repairs in Dallas can be costly and can sometimes reduce the value of the property if not addressed promptly. Homeowners should consult with a local foundation repair and soil stabilization company to explore the possibility of taking a proactive stance, rather than reacting once the damage has already taken place".
The residential application is mostly done with high pressure injection rods and results are obtained with little disturbance to the residence or the structure in question. The process is clean and expedient without any inconvenience for the homeowner. The chemicals are completely safe and proven to be effective for at least 60 years.
In case of new constructions, the soil stabilization process should be done before the structure is put in place for optimum results.
Premier Foundation Repair Inc is based at 3767 Forest Ln, Dallas and can be reached via phone or website. (972) 417-0823 http://www.premierfoundationrepair.com
###