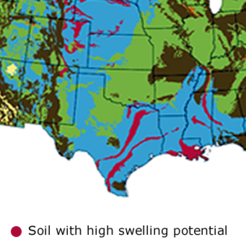 Prevent foundation repairs by keeping the moisture level around your house constant!
Dallas, TX (PRWEB) May 18, 2011
Foundation repairs in Dallas are a common occurrence says Julie from Premier Foundation Repairs Inc. "The foundation of your house in Dallas are unfortunately sitting on very expansive soils. This type of soil is very sensitive to moisture, causing large amount of swelling and shrinking depending on how much water is present". The map to the right shows how Dallas is located directly on top of some of the most expansive soils in the nation.
Premier Foundation Repair Inc. has few suggestions for the homeowners that will help prevent the need of foundation repairs in Dallas.
1. Homeowners should check the drainage around their residence by making sure gutters and spouts drain away from the foundations.
2. Plumbing leaks under the house foundations are not uncommon. The homeowner can have a plumbing pressure test done to make sure there are no leaks under the slab.
3. The ground moisture around the home's perimeter should remain as constant as possible. Premier Foundation Repairs Inc. recommends periodical use of a sprinkler system and soaker hoses.
If a residence shows signs of foundation problems, the customer needs to remember that the root cause, most likely a moisture level issue, will need to be addressed in order for the foundation repairs to last permanently.
Premier Foundation Repair Inc has performed thousands of foundation repairs in Dallas and can evaluate each customer individual situation and unique needs. Premier Foundation Repair Inc in Dallas can be reached at 800-705-7370.
# # #