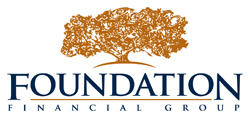 Jamie is an example of the can-do blue collar work ethic that drives Foundation Financial Group.
Charlotte, NC (PRWEB) February 24, 2012
Jamie S. Ray, a sales manager in Foundation Financial Group's Charlotte center, earned a vacation package to Asheville, N.C. compliments of his employer, Foundation Financial Group.
Each quarter, Foundation Financial Group honors one of its employees for outstanding service and going beyond the call of duty while maintaining a positive attitude. Ray received the company's Timothy Brosier Diamond Award for outstanding service in third quarter 2011.
"Jamie is an example of the can-do blue collar work ethic that drives Foundation Financial Group," said Foundation Financial Group CEO Mark W. Boyer. "Jamie's sincerity, professionalism and attitude motivate other and make Foundation Financial Group the kind of workplace that people want to be a part of."
The Timothy Brosier Diamond Award honors the legacy of Timothy Brosier, a Foundation Financial Group employee who worked in the company's Savannah, Ga. regional center before he passed away from cancer in late October 2010. Although Brosier only worked for Foundation Financial Group for four months, he touched many lives through his energy, sense of humor and ability to encourage others with a "no excuses" attitude. Brosier, a native of Beloit, Wisc., played football and baseball at Beloit Memorial High School and later served in the U.S. Army and the National Guard.
Foundation Financial Group employees nominate their fellow colleagues for the Diamond Award each quarter. Foundation Financial Group's executive team reviews the nominations and selects a winner. Foundation Financial Group's Charlotte center was recently a finalist in the Charlotte Business Journal's "Best Places to Work" awards. In August, Florida Trend magazine named Foundation Financial Group one of the "Best Companies to Work For in 2011."
About Foundation Financial Group
Foundation Financial Group, one of the nation's fastest-growing financial services companies, specializes in mortgage lending, property and casualty insurance, life insurance, retirement services, personal taxes and corporate tax services. Foundation Financial Group operates seven regional centers in Atlanta; Charlotte, N.C.; Dallas; Jacksonville, Fla.; Raleigh, N.C.; Rochester, N.Y.; and Savannah, Ga., as well as a retail network branch of offices in Dayton, Ohio; Indianapolis; Kansas City, Mo.; Toledo, Ohio; and St. Paul, Minn. Foundation Financial Group offers mortgage refinancing and first-time buyer lending through traditional financing, as well as Federal Housing Administration and other government-backed home loan programs. Foundation Financial Group enjoys an A+ rating from the Better Business Bureau, the highest accreditation the BBB gives and an industry-leading Federal Housing Administration compare ratio. For more information, call 866-334-1001.
For additional information, interview and image requests, contact public relations firm, AXIA Public Relations, at 866-999-2942, ext. 700.
# # #