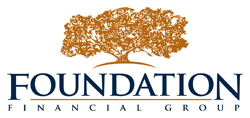 Ryan is an example of the hard work that drives Foundation Financial Group. He comes in early, stays late and does whatever it takes to help others reach and exceed their goals
Atlanta, Georgia (PRWEB) February 28, 2012
Foundation Financial Group employees and executives awarded the Timothy Brosier Diamond Award for outstanding service during the fourth quarter of 2011 to Ryan J. Eichner.
Eichner, an operations specialist in Foundation Financial Group's Atlanta mortgage operations center, selected a vacation package to the Twin Cities as his prize. This package includes tickets to a Minnesota Wild hockey game, compliments of his employer, Foundation Financial Group.
Each quarter, Foundation Financial Group honors one of its employees for outstanding service and going beyond the call of duty while maintaining a positive attitude.
"Ryan is an example of the hard work that drives Foundation Financial Group. He comes in early, stays late and does whatever it takes to help others reach and exceed their goals," said Foundation Financial Group CEO Mark W. Boyer. "Ryan always returns calls, always looks for a solution when presented with a problem and is a jack of all trades within the company."
The Timothy Brosier Diamond Award honors the legacy of Timothy Brosier, a Foundation Financial Group employee who worked in the company's Savannah, Ga. regional center before he passed away from cancer in late Oct. 2010. Although Brosier only worked for Foundation Financial Group for four months, he touched many lives through his energy, sense of humor and ability to encourage others with a "no excuses" attitude. Brosier, a native of Beloit, Wisc., played football and baseball at Beloit Memorial High School and later served in the U.S. Army and the National Guard.
Foundation Financial Group employees nominate their fellow colleagues for the Diamond Award each quarter, and Foundation Financial Group's executive team then reviews the nominations and selects one winner.
The Timothy Brosier Diamond Award is one of the many ways that Foundation Financial Group demonstrates its commitment to its employees and the ways in which it is a great place to work. The company has built a culture of hard work, efficiency, philanthropy, speed and ethics – which is not easy to do under rapid expansion. This month, 904 Magazine named Foundation Financial Group as one of Jacksonville's "Top Companies with Heart." In April 2011, the Atlanta Business Chronicle honored Foundation Financial Group as the 15th fastest-growing company in its annual Pacesetter Awards for the 50 fastest-growing Atlanta companies. In May 2011, the Better Business Bureau serving Metro Atlanta, Athens and Northeast Georgia honored the company as first runner-up in its 2011 Torch Awards category for marketplace ethics. In August of last year, Florida Trend magazine named Foundation Financial Group one of the "Best Companies to Work For in 2011," and now the Charlotte Business Journal has named the company as one of its finalists for "Best Places to Work" in the Queen City.
About Foundation Financial Group
Foundation Financial Group, one of the nation's fastest-growing financial services companies, specializes in mortgage lending, property and casualty insurance, life insurance, retirement services, personal taxes and corporate tax services. Foundation Financial Group operates seven regional centers in Atlanta; Charlotte, N.C.; Dallas; Jacksonville, Fla.; Raleigh, N.C.; Rochester, N.Y.; and Savannah, Ga., as well as a branch network of retail storefronts in Dayton, Ohio; Indianapolis; Kansas City, Mo.; Toledo, Ohio; and St. Paul, Minn. Foundation Financial Group offers mortgage refinancing and first-time buyer lending through traditional financing, as well as Federal Housing Administration and other government-backed home loan programs. Foundation Financial Group enjoys an A+ rating from the Better Business Bureau, the highest accreditation the BBB gives an industry-leading Federal Housing Administration compare ratio. For more information, call 866-334-1001.
For additional information, interview and image requests, contact public relations firm, AXIA Public Relations, at 866-999-2942, ext. 700.
###