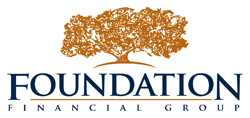 Assured Insurance Services' vision of exceptional customer service and growth made it a strong fit for Foundation Financial Group as we increase our presence in the Midwest
Jacksonville, Florida (PRWEB) April 02, 2012
"Assured Insurance Services' vision of exceptional customer service and growth made it a strong fit for Foundation Financial Group as we increase our presence in the Midwest," said Subsidiaries COO David Gueterman. "When you offer customers quick turnaround times, competitive pricing with stellar service and hire the best employees, growth occurs. Our strategy includes acquiring great companies like Assured Insurance Services as Foundation Financial Group pursues our vision to become the nation's largest and best financial services company."
Foundation Financial Group announced the opening of its insurance division in January 2011. In January 2012, Foundation Financial Group acquired Florida-based B&R Insurance. In just over a year the insurance division has realized exponential growth.
About Foundation Financial Group
Foundation Financial Group, one of the nation's fastest-growing financial services companies, specializes in mortgage lending, property and casualty insurance, life insurance, retirement services, personal taxes and corporate tax services. Foundation Financial Group operates seven regional centers as well as a branch network of retail storefronts across the Midwest. Foundation Financial Group offers mortgage refinancing and first-time buyer lending through traditional financing, as well as Federal Housing Administration and other government-backed home loan programs. Foundation Financial Group enjoys an A+ rating from the Better Business Bureau, the highest accreditation the BBB gives and an industry-leading Federal Housing Administration compare ratio. For more information, call 866-334-1001 or visit http://www.ffg.com.
###
For additional information, interview and image requests, contact The AXIA Public Relations Firm at 866-999-2942, ext. 700.