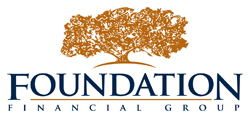 I am extremely proud of my fellow employees and our company because we know that giving back to your community matters
KANSAS CITY, Mo. (PRWEB) February 21, 2012
Foundation Financial Group's employees at its Kansas City retail branch, located at 7607 NW Roanridge Road, volunteered at Harvesters' Volunteer Outreach Center. Foundation Financial Group employees volunteered their time by sorting and repackaging donated products and made a monetary donation to the Harvesters cause.
"I am extremely proud of my fellow employees and our company because we know that giving back to your community matters," said Christopher J. Kemmy, Foundation Financial Group's Kansas City branch manager. "There are many children, families and individuals who don't know where their next meal is coming from. We are glad we could help support this great organization that helps provide food to people."
About Harvesters: The Community Food Network
Harvesters is the regional food bank serving a 26-county area of northwestern Missouri and northeastern Kansas and is the winner of the 2011 Food Bank of the Year award from Feeding America. Harvesters provides food and related household products to more than 620 not-for-profit agencies including emergency food pantries, soup kitchens, homeless shelters, children's homes, homes for the mentally disabled and shelters for battered persons. Agencies in Harvesters' network provide food assistance to as many as 66,000 different people each week. Harvesters, which was founded in 1979, is a certified member of Feeding America, a nationwide network of more than 200 food banks serving all 50 states.
About Foundation Financial Group
Foundation Financial Group, one of the nation's fastest-growing financial services companies, specializes in mortgage lending, property and casualty insurance, life insurance, retirement services, personal taxes and corporate tax services. Foundation Financial Group operates seven regional centers in Atlanta; Charlotte, N.C.; Dallas; Jacksonville, Fla.; Raleigh, N.C.; Rochester, N.Y.; and Savannah, Ga., as well as a branch network of retail storefronts in Dayton, Ohio; Indianapolis; Kansas City, Mo.; Toledo, Ohio; and St. Paul, Minn. Foundation Financial Group offers mortgage refinancing and first-time buyer lending through traditional financing, as well as Federal Housing Administration and other government-backed home loan programs. Foundation Financial Group enjoys an A+ rating from the Better Business Bureau, the highest accreditation the BBB gives and an industry-leading Federal Housing Administration compare ratio. For more information, call 866-334-1001.
For additional information, interview and image requests, contact The AXIA Public Relations Firm at 866-999-2942, ext. 700.
###