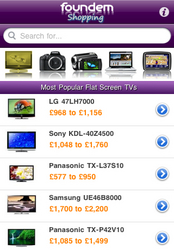 We designed the Foundem app to be a quick and easy way for iPhone and iPod touch users to browse products, compare prices, and buy online
London, UK (PRWeb UK) July 30, 2009
Foundem.co.uk today announced its price comparison application for iPhone and iPod touch, now available on the Apple App Store. The Foundem Shopping app offers an easy way for users to search and browse for the best products and prices offered by hundreds of retailers like Comet, Dixons, and John Lewis, and access other useful shopping features such as User Reviews and product Price Histories.
From televisions to toasters to motorbike helmets, Foundem Shopping lets you quickly and accurately compare products and prices on the go. Foundem is the only price comparison app to offer in-app browsing of each retailer's descriptions, photos and special offers, as well as providing one-tap access to their websites. Searching for products is easy too; simply enter the first few characters and choose from the list of suggestions, or browse Hot Products to see what others are looking at.
"We designed the Foundem app to be a quick and easy way for iPhone and iPod touch users to browse products, compare prices, and buy online," said Shivaun Raff, CEO of Foundem. "We're really excited about this app because it's an easy way for people to check they're getting the best deal while out shopping. At a time when saving money is a top priority, this free application is just one more way Foundem is helping its users find the best deals."
Foundem Shopping is the first in a series of Foundem applications planned for the iPhone, and is available free from Apple's App Store at http://www.itunes.com/appstore/.
For more information please visit foundem.co.uk/iphone.
-Ends-
Note to editors
About Foundem.co.uk
Foundem is the world's most advanced vertical search engine, designed to significantly improve the way people search the internet for information, products, and services. Foundem's patented WebSentient™ technology provides the world's first and only general-purpose vertical search solution which can provide accurate, timely, and highly-detailed parametric search within any domain. Whether users are looking for a flight, a job, a television, a motorcycle helmet, or even a house, Foundem's revolutionary vertical search technology saves them time, effort, and money.
###