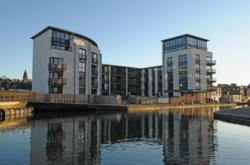 Fountain Court leapt just over 200% in visits year on year, providing a staggering 400% increase in revenue generated by people visiting their website by mobile device
Edinburgh (PRWEB UK) 9 July 2012
Fountain Court Apartments, the premier operator of luxury serviced apartments in Edinburgh, have re-launched an innovative website and created a new mobile website for the ever increasing transient market. The new mobile website was driven by demand after Fountain Court leapt just over 200% in visits year on year, providing a staggering 400% increase in revenue generated by people visiting their website by mobile device. There was also a noticeable increase in average duration of visit, indicating that people on the move have more time to browse.
Changes to the static website include new streamlined design layout and improved navigation. http://www.fountaincourt.com now features a satellite navigation facility to make it easier for people to view it's proximity to local attractions and transport links. In keeping with customer needs, their partnerships with restaurants, bars, car hire and attractions mean customers can book their experience at an exclusive discount, all under one roof, now made much easier to find by the browser under special deals.
Fountain Court Apartments pride themselves on providing value for money, hence the introduction of "No Hidden Costs"; an area of the website which boasts the added value a guest experiences within it's affordable tariff, including free WIFI and a daily housekeeping service. Guests still to be convinced by the quality of apartments on offer; need only go to Fountain Court Apartments You Tube channel, specifically created for browsers to discover why Fountain Court Apartments are so popular. If that's not enough, then Ten Great Reasons To Book An Apartment is another new section of the website encouraging all guests to book, whether it's for one night or one year. A subscriber mailing list is available to ensure guests don't miss out on any future news and special deals.
Fountain Court Apartments was formed in 1998 and operates over 180 apartments in Edinburgh. For more information visit http://www.fountaincourt.com