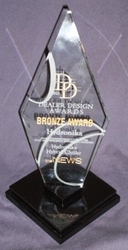 "Hydronika's four-pipe chiller is the next logical step in providing energy efficient designs as requested by our customers" said, Michael Scharing, President of Hydronika.
Hillsborough, NJ (PRWEB) July 22, 2010
Hydronika was recognized for excellence in product design in the 6th annual Dealer Design Awards Program sponsored by The Air Conditioning Heating & Refrigeration News magazine. An independent panel of 30 contractors acted as judges in the contest that had 114 entries from different industry brands. The company's four-pipe chiller was the bronze winner in the high efficiency residential equipment category The ACHR News is the leading trade magazine in the heating, ventilating, air conditioning, and refrigeration industries.
News Publisher John Conrad stated, "These awards give us a unique opportunity to recognize the outstanding research and development efforts that go into many of the products serving the HVACR industry and the awards issue gives our readers an opportunity to read about innovative installation and service solutions."
Hydronika manufactures four-pipe chillers and chiller boiler packaged systems in four and six-pipe configurations for residential and smaller commercial systems.
Winning entries in the Dealer Design Awards were featured in the July 12, 2010 issue of The ACHR News, which is distributed nationally to over 33,000 HVACR contractors, wholesalers, and other industry professionals.
# # #