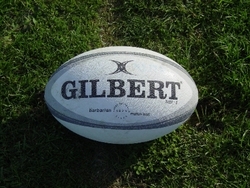 London, UK (PRWEB) October 16, 2009
Leading budget accommodation provider HostelBookers is offering three pairs of VIP tickets to the 2009 Gillette Four Nations rugby league finals to its top customers. The fantastic giveaway includes a chance to see the final game in style, complete with a champagne reception, a slap up lunch and a Q&A session with Rugby League legend Martin Offiah and other guest personalities.
The final game will be held at Elland Road, Leeds on Saturday 14th November 2009 and all customers can enter by simply registering on HostelBookers.com.
As the first two rounds of the 2009 Gillette Four Nations rugby league tournament loom, HostelBookers has pinpointed the best value accommodation in each host city, leaving rugby fans with more cash for the big game.
Found in recent independent research to offer hostel beds at an average of 5.1 per cent less than its rivals, HostelBookers has uncovered hostels from as cheap as £9.50 per person per night in the match cities of Doncaster, Southwest London, Wigan and Toulouse, France. Travelers looking to travel to the games with a bunch of mates can also get great rates for group accommodation with HostelBookers.
FRIDAY 23 OCTOBER
Kicking off with England playing France, the tournament's first match is at Doncaster's Keepmoat Stadium, South Yorkshire. Rugby devotees can stay at the 64-room Restover Lodge Doncaster, which offers free Wi-Fi and is a mere 15-minute walk from the stadium. The hotel offers free linen and towels, as well as tasty pre-match breakfasts at just £3.50.
From £9.50 per person per night in a private triple room.
SATURDAY 24 OCTOBER
Antipodeans looking to watch the New Zealand team pit itself against Australia at the Twickenham Stoop Stadium can stay just four miles away at the Channins Hounslow Hotel, in Feltham. A three-star hotel with friendly, personal service and modern facilities, Channins Hounslow boasts bright décor, a handy 24-hour reception for post-match drinking and a relaxed, informal atmosphere. The free hangover-defying breakfasts are a real perk! Travellers can also book a more central hostel in London for exploring the city after the games.
From £12.99 per person per night in a private double ensuite room.
SATURDAY 31 OCTOBER
The start of round two sees England clashing with Australia in Wigan's DW Stadium. The best place to stay for the Pommy-Ozzie contest is a half-hour's drive out of town in Manchester's award-winning, centrally located The Hatters hostel. Awarded an approval rating of 81.2 per cent by past guests, the hostel offers free breakfast, Wi-Fi, luggage room and linen and is just five minutes' walk from Piccadilly train station. Guests can also chill in the lounge area and use the pool tables after the game.
Prices from £10 per person per night in a 10-bed dorm.
On the same Saturday, France will be playing New Zealand, at Stade Ernest Wallon in Toulouse, and fans can find the best value accommodation at the Nouvel Horizon hostel, which enjoys a privileged location near the shops and airport. Those looking to take in some of France's fifth-largest city after the rugby can visit the nearby Museum of Modern Art and Le Zénith entertainment venue.
From £11 per person per night in a four-bedroom apartment.
HostelBookers features more than 16,500 hostels and budget properties in over 3,000 destinations across more than 150 countries, and is the only website in the industry not to charge a booking fee - its lowest price guarantee means that prices are on average 5.1 per cent less expensive than other well-known hostel booking companies.
# # #