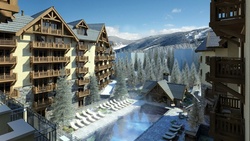 As a native of Switzerland and an avid skier, relocating to Vail is a dream come true for me
VAIL, Colo. (PRWEB) September 30, 2008
"As a native of Switzerland and an avid skier, relocating to Vail is a dream come true for me," said Willimann. "I'm looking forward to living and working here, and to making Four Seasons Resort Vail a vibrant member of this mountain community."
Prior to his post in Vail, Willimann held the position of general manager of Four Seasons Hotel Chicago, starting before the Hotel's opening in March 1989. Under his leadership, Four Seasons Hotel Chicago quickly became one of the country's top hotels, setting a new standard of excellence in the city. Willimann's reputation for finely-tuned attention to detail made every aspect of the guest experience memorable – from personal, gracious service, and dining excellence, to impeccably imagined surroundings. This focus garnered the hotel and its team numerous accolades, including both the Mobile Five-Star and AAA Five Diamond awards, after less than three years of operation. During Willimann's tenure, Four Seasons Hotel Chicago was consistently recognized with many prestigious international and national awards.
Willimann joined Four Seasons in 1979 as executive assistant manager of Four Seasons Hotel Toronto. From 1981 to 1989 he held several senior management positions including general manager of Four Seasons Inn on the Park Houston, and Four Seasons Hotel Boston, before transferring to Chicago.
Willimann is fluent in Swiss-German, German, French, English and conversational Spanish. He graduated from the École Hôtelière in Lausanne and attended the Commercial School in Zurich, as well as the Swiss Mercantile College in London.
During his 20-year tenure in Chicago, Willimann contributed greatly to the community and his involvement earned him the affectionate title of "Mayor of Chicago." He was recognized by the Illinois Hotel & Lodging Association with the "Hotelier of the Year" and the "Ambassador of Hospitality" awards in recognition of his achievements and contributions over the past two decades.
Willimann and his wife, Louise, have settled in the Vail Valley. They both enjoy the outdoors and look forward to becoming active within the Eagle County community. Having grown up in Switzerland, Willimann is especially excited about the area's abundant winter activities.
Situated at the main entry to Vail Village, Four Seasons Resort Vail is a multi-use resort featuring a 121-room hotel, a Four Seasons Residence Club – 19 fractional residences sold at 1/12 interests – and 16 private residences. Owners will enjoy an incomparable level of luxury living with full access to Four Seasons services and amenities, including a spa and fitness club, lap pool, fine dining restaurant, dedicated ski and snowboard valet service, and the signature "Kids For All Seasons" program.
Real estate sales for Four Seasons Residence Club Vail are managed by Playground Destination Properties Inc. For further information, contact Jeff Meier at (877) 748-VAIL (8245) or visit http://www.fourseasons.com/ownvail.