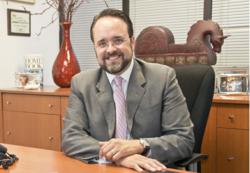 The Condo Inventory Shortgage Hits the Mid and High-end Condo Markets!
Miami, FL (PRWEB) May 23, 2013
Javier Cardenal, Broker and Commercial Director of Interinvestments Realty, brokered the Four Seasons Residences' deal.
"The last unit we sold in the Four Seasons was unit 46E, which was listed at $2,999,000 and it closed for $2,900,000," says J. Cardenal. "The condominium has 3,357 square feet and it sold for $836 per sqft. The unit sold is a four bedroom residence that is on the north east corner of the building. It has marble and wood floors with spectacular city and bay views."
"Our buyers were looking for a spacious four bedroom unit in the Brickell area and the unit needed to be in mint condition," continues J. Cardenal. "They liked the location of the Four Seasons Residences, the business atmosphere, and the building's amenities, particularly the full service concierge with personal a touch that makes you feel at home."
"In the Four Seasons Residences, units sell from $800 to $1300 a sq. foot," says Emilio J. Cardenal, Broker and CEO of Interinvestments Realty. "The highest sale recorded this year was Penthouse 70F, which closed for $5,200,000 in the month of May. The magnificent penthouse is 3,828 square feet and closed for just over $1,300 per sqft. according to data in the Multiple Listing Service."
"If you want to buy a three bedroom unit today in the Four Seasons Residences at Brickell, there are only two available to choose from," continues E. Cardenal. "And if you want to purchase a four bedroom unit there is only one on the market. The current availability is at a minimum. The depleted inventory of resale properties in South Florida is something that is very significant."
"The inventory has totally disminished in the Brickell area, and this is occurring not only in the high-end condominiums, but also in the mid-market as well," adds E. Cardenal. "If you are looking for a two bedroom unit, in 1060 Brickell, Mint, Wind by Neo, or Brickell on the River, from the $400's to $500's, there are only a handful of units available for sale in each building."
"The nearly depleted inventory in today's vibrant and resurging real estate market has created a reaction from the buyers in the marketplace to strongly consider pre-construction condominium developments. There are currently a few that have started sales and soon more will be entering the marketplace to help supply the market with much needed product," concludes E. Cardenal.
If you want more information about the best new-construction and resale properties in the South Florida market, please contact our offices at the telephone number that appears in our contact information, next to this communication.