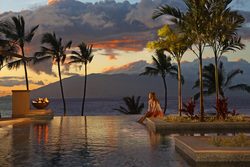 We were pleased to share our resort with the 'Modern Family' team. Having the entire episode filmed here is a wonderful opportunity to showcase our hotel to the show's 10 million viewers
Maui, HI (Vocus) May 11, 2010
Aloha Pritchett clan! The management and staff at the Four Seasons Resort Maui at Wailea greeted the cast and crew of ABC-TV's hit-show "Modern Family" with a five-star welcome when they came to the luxe oceanfront resort to film the multi-cultural, multi-generational family saga which airs at 9 p.m. ET/PT on May 12, 2010.
Everyone at the hotel is tight-lipped about the episode, promising not to give away any plot developments, but they do promise the show will fill viewers with plenty of laughs.
"We were pleased to share our resort with the 'Modern Family' team. Having the entire episode filmed here is a wonderful opportunity to showcase our hotel to the show's 10 million viewers," says Thomas Steinhauer, regional vice president and general manager. "We figure if this modern family could have so much fun, then think how great it would be when viewers bring their own 'modern families' to Maui."
Steinhauer points to the many activities awaiting families coming with children of all ages including Kids for All Seasons, the special daily arts, craft and games club for children 5-12 years; the wading pool for toddlers; and the fully-equipped family game room, which is stocked with foosball, ping pong, pool tables, several electronic game devices, and even books when it's just time to sit back and unwind. For teens, there are a number of water sport activities including an outrigger canoe program, a scuba clinic and just about every sport where a ball comes into play. Even adults need to be pampered and with a new $9-million adults-only Serenity Pool, top-rated restaurants and a world-class Spa, they'll get those plus a wealth of complimentary extras such as no resort fee, a wide array of fitness classes, twice daily housekeeping, and so much more.
With a resort staff to guest ratio of two employees per guest room, vacationers have the peace of mind that they will be attentively taken care of on every visit. ''We are truly a resort for all guests and we're adept at anticipating their needs. Many of our loyal guests consider the hotel a 'second home' so we're constantly evolving in order to maintain the highest standards of services and amenities,'' says Steinhauer.
Visit Four Seasons Resort Maui or call (808) 874-8000 and book your kids-and-all getaway today.
About Four Seasons Resort Maui
Four Seasons Resort Maui at Wailea is Maui's first and only AAA Five Diamond and Forbes Five-Star resort. Celebrating its 20th anniversary, this newly renovated hotel is situated on 15 oceanfront acres of Maui's sunny southern coastline. The Resort is home to one of the nation's top-rated spas and to three of Hawaii's most acclaimed restaurants -- romantic Italian favorite Ferraro's Bar e Ristorante, award-winning Wolfgang Puck's Spago Maui and DUO Steak and Seafood, the hottest new restaurant in Maui. Live entertainment is featured nightly in the Lobby Lounge. A new museum quality Hawaiian art collection graces the richly renovated guestrooms and public areas while three authentically constructed outdoor Hawaiian hales were recently added to the award-winning spa. For information, please call the Resort directly at 808-874-8000, or Four Seasons Central Reservations at 800-332-3442, or visit http://www.fourseasons.com/maui .
U.S. Mainland Contact:
Quinn Doan/Charlotte Novom
Novom Marketing Inc.
Four Seasons Resort Maui
PH: (323) 882-8333
Fax: (323) 882-8310
Cellular: (323) 868-8997
qdoan(at)novom(dot)com
###