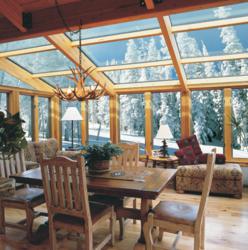 When it's too cold to venture outdoors, a sunroom will bring the outside inside, 365 days a year.
Holbrook, NY (PRWEB) January 12, 2012
Because many people typically think of sunrooms as a summer addition - a place to soak up the sunshine and bridge the gap between indoor and outdoor living - Four Seasons Sunrooms has put together this set of tips as a reminder to homeowners that sunrooms, conservatories and patio enclosures, when built properly, can easily be a cozy cold-weather retreat.
While sunrooms and patio rooms do make an excellent warm-weather family hub, that only tells part of the story. Getting a true year-round sunroom, like that from Four Seasons, means getting a glass room addition with a superior build quality that can be used during even the coldest months, with no need to abandon it as soon as the winter weather arrives. The difference between cheaply-made three-season rooms and a four-seasons sunroom is that the latter is a room addition you can utilize all year long, even when it's cold outside.
When buying a Sunroom or Conservatory, it's the glass that makes all the difference in providing insulation in the colder winter months. Four Seasons uses an energy-efficient glass, exclusive to only its room additions, that do just that. Thanks to the company's unique CONSERVAGLASS SELECT™ glazing formula, the sunroom will block out more of the heat in the summer and stay warmer during the winter, allowing the homeowner to enjoy year-round comfort – even when there's thick snow on the ground.
Another great benefit of any sunroom or conservatory during the short and dark winter days is the way it can flood a home with natural daylight. Exposure to natural light makes people feel healthier and much lighter in spirit, so a room addition that lets in a lot of light is a great way to keep those 'winter blues' away.
When it's too cold to venture outdoors, a sunroom will bring the outside inside, 365 days a year. It can serve as a wonderfully tranquil space to enjoy the plants, trees, birds and other wildlife in the backyard – all from the comfort of an armchair. At night, it's a romantic spot to do a little star gazing, or watch the gently falling snow from in front of the fireplace.
During the summer months, it's easy to live life outdoors, but it's just as easy to forget how tight a home may be on space – especially during those long winter days when families can be all cooped up together. But a sunroom helps homeowners to avoid tempers getting frayed! Sunrooms, conservatories or patio rooms are more than just an extended porch; they can make great playrooms, living rooms, dining rooms and kitchen extensions. Matching the addition to a family's needs creates a comfortable home for all to enjoy, winter or summer.
Four Seasons Sunrooms and Windows customers, Gary and Anne Toponce from Orinda, CA have been doing just that. They commented:
"Our Four Seasons sunroom has not only added extra square footage to our home as year-round living space, but has created a room that allows us to enjoy our backyard throughout all seasons. We are using the sunroom as our living room where we often relax with the family to enjoy the bright sunlight and view of the backyard...We love how the sunroom has enhanced the look of our house. We are the talk of our neighbourhood with our Four Seasons addition."
Order your Four Seasons sunroom, conservatory or patio enclosure this fall and enjoy more natural light, extra living space and greater comfort through the winter months – and all year round!
1-800-FOUR SEASONS (1-800-368-7732) - http://www.FourSeasonsSunrooms.com
###