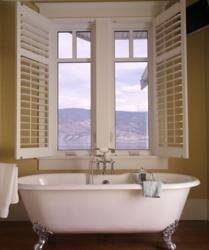 Whether you live in a hot or cold climate – or you experience both extremes – Four Seasons replacement windows can match your heating and cooling needs.
(PRWEB) January 11, 2012
With so many replacement window options to choose from, where exactly does a homeowner start? The answer is surprisingly simple. Don't settle for one-size-fits-all solutions. Instead, make sure to pick a supplier that can custom make replacement windows to suit the climate, the neighborhood, the lifestyle of the homeowner, and the home's architectural and interior style.
With over thirty-five years experience in making energy-efficient glass room additions and sunrooms, Four Seasons Sunrooms and Windows has entered the market as a premier brand for both new and replacement windows. But premier doesn't necessarily mean pricey. Four Seasons vinyl replacement windows come at a medium price point so they won't break the bank. What's more, whatever a family's needs and demands are, the company does its best to exceed them! There are important requirements when purchasing windows for a home, and Four Seasons takes them seriously.
Climate Control
Whether the climate is hot or cold – or experiences both extremes – Four Seasons energy-saving windows can match the heating and cooling needs of a home. They feature a patented glazing recipe known as CONSERVAGLASS SELECT™ which uses both argon and krypton gas filling to help keep it cooler in summer and warmer in winter. There are both double or triple pane options for super energy efficiency and lower utility bills.
Neighbourhood Security
A family's safety and security comes high on Four Seasons Sunrooms and Windows' list of priorities. Not only are the company's replacement windows made of thick, strong and durable extrusions but they also offer steel reinforced sashes and frames. There are plenty of extra security features too, including "pocket" sills to prevent burglars from 'jimmying' the windows open; dual positive action (PAL) locks that ensure replacement windows are automatically locked when closed, and internal glazing to prevent the glass from being removed from outside.
Lifestyle Features
Life's too short to clean windows! That's why Four Seasons replacement vinyl windows feature exclusive Stay-Clean Technology™ so they stay cleaner for longer. Of course with vinyl windows, there's no more scraping and painting to do either and the quality of Four Seasons' vinyl extrusions means it won't yellow, rot, peel or chip. For a family with children, double-strength glass is extra reassuring, and the UV-blocking glass recipe will also protect precious furnishings from fading.
Architectural and Interior Style
Everyone is keen to maintain the architectural integrity of their home by replacing like for like windows, and Four Seasons Sunrooms and Windows offers an extensive range of style options. Homeowners can choose from double-hung and casement, picture or sliding, bow or bay, awning windows and more. There is a wide palette of colors and grain textures to match a home's exterior and interior style. For the finishing touch, pick from a wide range of window catches and etched glass to make the replacement windows unique.
With so many beneficial features, along with strength, durability and super-energy efficiency, it's little wonder that Four Seasons Sunrooms and Windows has been a market-leading supplier for the past 35 years.
1-800-FOUR SEASONS (1-800-368-7732) - http://www.FourSeasonsSunrooms.com/Windows
###