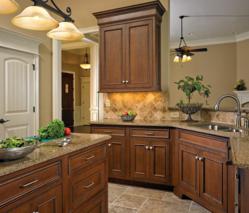 With cutting edge design technology, home owners can virtually see their dream kitchens and homes come to life.
Whitestone, NY (PRWEB) June 24, 2013
Four Seasons has been a premier brand in the home remodeling business for nearly 40 years. With the launch of its new design center in July/August 2013, it adds to the product portfolio with their new kitchen range and energy saving windows. This design center is unlike any of Four Seasons other showrooms: with cutting edge design technology, home owners can virtually see their dream kitchens and homes come to life. Four Seasons is balancing the perfect synergy in the area between the company owned design center and the already existing, Green International Inc. which serves the area for all current and future sunroom needs.
Four Seasons kitchens are customized to the homeowner's unique style and taste. Four Seasons kitchen cabinets are offered in three different construction styles, to better meet the specific design and style needs for each home. The availability of over 70 colors means more of a selection to make each kitchen one of a kind. The free in-home planning service offered by Four Seasons means that homeowners can see their dream kitchens for free before purchasing, making Four Seasons a unique offering in the market place, as everything from concept to completion is handled by the company.
Four Seasons energy efficient window products will also be introduced in the Whitestone area. Four Seasons energy efficient windows don't only look beautiful, but can also increase homeowners living comfort. Conservaglass Select, Four Seasons cutting edge glass technology, will help reduce monthly energy costs by keeping you warmer during the winter and cooler during the summer. This glass technology is as beautifully crafted as the windows themselves. Four Seasons windows will pay for themselves in no time, and bring homeowners relief that their families will rest safely and comfortably with Four Seasons Conservaglass Select windows on their homes.
You may contact Four Seasons at 800-FOUR SEASONS (800-368-7732) or request more information on the website: FourSeasonsSunrooms.com.