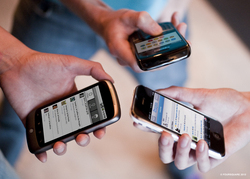 To be honest, we don't know if Foursquare will work. Some of us think it will, others don't
Salt Lake City (Vocus) June 1, 2010
Can businesses make money with Foursquare? Right now?
That's the question SEO.com will try to answer in the coming months.
To find out if Foursquare is a legitimate tool for businesses, the SEO company will manage free Foursquare campaigns for a select number of companies. SEO.com will track the success and release the results later in the summer.
"To be honest, we don't know if Foursquare will work. Some of us think it will, others don't," said Dave Bascom, chief executive at SEO.com. "But we're looking for strong case studies to prove whether Foursquare can be a tool for marketers and location-based businesses."
There is growing hype around Foursquare, an up-and-coming social site. It is gaining 15,000 new members each day and has eclipsed the 1 million mark one year before Twitter did. Those numbers are the reason for SEO.com's interest. But the same numbers also support the naysayers' view.
"Compared to Facebook and Twitter, Foursquare is small. But we think it could fill a marketing void where other social media sites fall short," said Chris Knudsen, vice president of marketing at SEO.com. "Many think Foursquare needs businesses more than businesses need Foursquare right now."
Foursquare's platform may offer unique opportunities that the other giant social media sites don't. Users check in at locations, earn badges, become mayors, and businesses can award users for any of those actions.
"Foursquare seems built for the mobile phone, for offering specials, and for engaging customers on a different level that can create strong loyalty," Bascom said. "Those who work with us on this case study will receive a free Foursquare marketing campaign and will be featured in our report that will be published towards the end of the summer."
For more information, or to sign up for the Foursquare ROI challenge, go to http://www.seo.com/foursquare/
About SEO.com
SEO.com is a search marketing firm that makes its clients money by driving traffic to their websites through aggressive search engine optimization, pay per click management, and social media marketing. SEO.com then turns those visitors into sales through search-optimized Web design and conversion optimization. Clients range from small startups to Fortune 100 companies. For more information, visit http://www.seo.com.
###