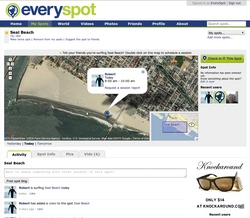 EverySpot.com has been described as a mix between Facebook and Foursquare applied to the world of surfing
Venice, CA (PRWEB) June 2, 2010
Surfers rejoice. The best way to find the best surf spots and connect with other surfers locally and worldwide is now up and running at http://www.everyspot.com. It's launched and live and hanging on surfers' every tweet and status update of their favorite surf spots, pictures, videos and session times.
While traditional surf websites focus mainly on weather and swell forecasts, EverySpot brings the surfing community to the forefront with a social networking aspect and seamless integration with Facebook allowing surfers to connect, share and express themselves while finding incredible places to surf. "It's basically an amazing way to meet up with friends for surfing, and to post great experiences about your favorite spots and destinations," said Ariel Vardi, founder of EverySpot.com. "We want to hear all the unique things that people have to say and share about their favorite waves."
What can you with EverySpot? Well, for starters,

Bookmark your favorite surf spots for immediate access and receive first hand condition reports by other surfers
Browse the ever growing list of user-submitted spots to find the destination of your next surf trip!
Upload your pics and videos of your favorite spots
Schedule your next surf sessions and share them with your friends on EverySpot and Facebook
Fill out your surfer profile to tell the world who you are, where you've surfed and what boards you ride
EverySpot.com has been described as a mix between Facebook and Foursquare applied to the world of surfing and is already enjoying great successes and growth. Launched in April, EverySpot.com already has over 300 surf spots registered all over the world, and more than 500 pictures and videos uploaded by its growing community. An iPhone application is also in the works and will soon let users browse and submit surf reports directly from their favorite spots.
With their mantra that, "Stoke and Aloha should be shared by all surfers," EverySpot.com invites you to come in and share your stories and help make them the first and best social destination for surfers all over the planet.
About Everyspot.com
EverySpot was formed in March 2010 in Venice, California.
http://www.everyspot.com
For more information, contact:
Ariel Vardi
Founder
ariel(at)everyspot(dot)com
(424) 229-2123
# # #