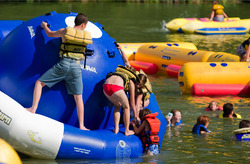 a lake with no peer in concentrated fun per acre-foot in all of North America.
Oak Hill (Vocus) April 5, 2010
When the Fourth of July arrives in 2010, accompanying the "bombs bursting in air," there will be swimmers launching big air over giant jungle gym toys floating on a lake.
ACE Adventure Resort is scheduled to hold its 2nd Annual July 4 Blob Big Air Contest, which will see human "rockets' red glare" arcing through West Virginia skies in a friendly (and splashy) competition.
The resort offers whitewater rafting, zip-line canopy tours, mountain biking, rock climbing, ATV tours and more from its 1,500-acre property in southern West Virginia. The resort's centerpiece is a 5-acre adventure lake and park. The lake is populated with inflatable toys that form towers, trampolines, slides and other amusements, including the Blob.
In the Blob contest, one team member sits at the end of a 30-foot-long air bladder. The other team member leaps from a 10-foot tower, landing on the opposite end of the bladder. The force of the drop launches the first team member through the air to a splash-down landing in the lake.
The 2009 Blob Big Air Contest drew 20 teams that included guests of all ages. Resort management and local celebrities served as judges, rating each round of launches with score cards, much like a diving meet. The organizers estimate more than 200 people turned out to watch the spectacle.
According to Jerry Cook, co-owner of ACE Adventure Resort in southern West Virginia, the resort boasts "a lake with no peer in concentrated fun per acre-foot in all of North America."
"There's no other lake more fun," Cook said. "You watch the Blob Contest, and it proves it."
ACE Adventure Resort was featured on the Travel Channel's "Extreme Resorts" show as the largest outdoor adventure resort in North America. The 1,500-acre, forest, river and mountain playground attracts more than 40,000 activity participants a year with whitewater rafting, zip-line canopy tours, mountain biking and rock climbing, ATVs — and its own 5-acre lake.
"We try to add a couple new inflatable toys each year," Cook said of the giant, floating playground that's anchored in the lake. "A lot of people think we just do whitewater rafting or other 'extreme' activities, but this is a setting where the whole family can have fun."
The Adventure Play Park, as the lake area is called, includes zip-lines that land in the water, as well as volleyball, ping pong, life-sized chess board, paddleboats and a 300-yard sand beach.
Beth Gill, ACE Adventure Resort's marketing director, said interested contestants can sign up for the Blob Big Air Competition right up to the event. The exact time of the event, scheduled for the afternoon, will be finalized that day, she said, depending on the return of guests from river activities. Gill said prizes include "ACE Bucks," or gift certificates good across the resort.
###