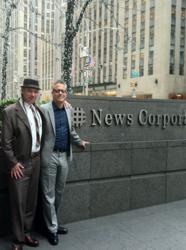 Oakland, CA (PRWEB) November 30, 2011
The premiere of the Discovery Channel's "Weed Wars" on Thursday, December 1 has all sides of the medical marijuana debate fired up. Leaving no controversial stone unturned, Bill O'Reilly just conducted a fiery interview with two of the show's stars—Steve DeAngelo, Executive Director of Harborside Health Center, and Andrew DeAngelo, Harborside's General Manager—for Fox News' highest rated show, "The O'Reilly Factor."
The O'Reilly Factor interview—which is sure to spark debate—will air on Fox News at 8 pm (PST) on Wednesday, November 20, 2011. Bill O'Reilly is known for hosting a rigidly enforced "No Spin Zone" in a straightforward and provocative manner. He invites guests with opposing viewpoints to comment on current day news and issues.
In this segment, O'Reilly tackles the topic of medical cannabis, which is increasingly in the news as the feds crack down on dispensaries and suppliers in states like California, where residents have voted to make it legal and local governments are enjoying the tax revenue. The medical marijuana industry is the subject of a new reality show, "Weed Wars," which premieres on the Discovery Channel this Thursday evening at 10 pm ET/PT.
DeAngelo will also appear tonight on Dylan Ratigan's Show "Free America" on MSNBC at 4 pm ET/PT and "The Soup" on E! 10 pm ET/PT.
Programming times for "The O'Reilly Factor," "Weed Wars," "Free America" and "The Soup" may vary; check local listings.
Discovery Channel's "Weed Wars" focuses on Oakland's Harborside Health Center, the nation's largest medical cannabis dispensary—serving over 94,000 patients—and the leadership behind Harborside: activist, founder and Executive Director Steve DeAngelo. DeAngelo's lifelong mission has been to bring the truth about the cannabis plant to the American public.
The series takes viewers on an up-close-and-personal exploration of the hot-button issue of medical cannabis, following the DeAngelo family and Harborside's staff as they fearlessly wrestle with the complex issues they face every day. The series accurately captures the real-life drama and high stakes of the business as federal agencies make increasingly harsher threats and IRS audits attempt to shut down the Oakland cannabis dispensary.
In addition to focusing on Steve DeAngelo, his family and the staff, "Weed Wars" follows the journey of the plant itself from seed germination to harvesting. Audiences will meet the growers and "patient farmers" whose job it is to provide the "medicine" that will be eventually purchased and used by thousands of patients, many of whom feel their lives have been forever changed by the plant.
About Harborside Health Center:
Founded by national cannabis leader Steve DeAngelo in 2005, Harborside Health Center is the nation's largest not-for-profit model medical cannabis dispensary. The Oakland medical cannabis collective offers its 94,000 registered patients free holistic health services, lab-tested medicine and education.
"Out of the shadows and in to the light" epitomizes DeAngelo's mission to enlighten the public on the many medicinal and therapeutic benefits of the plant. DeAngelo is recognized as a national leader and strategist of the cannabis reform movement. He speaks and writes widely on the subject. DeAngelo will be featured in "Weed Wars" on The Discovery Channel this fall.
For more information on Harborside Health Center, call (510) 533-0146 or visit harborsidehealthcenter.com.
###