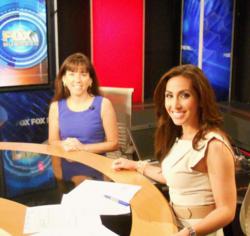 We started with a bar of soap and now GoatMilkStuff.com has many scented and unscented soaps and related products.
New York (PRWEB) August 28, 2012
PJ Jonas told Fox Business that sales of Goat Milk Stuff have doubled in each of the past few years and how with the help of her husband and 8 children, the company now offers a full line of goat milk soap products made by her family on their Indiana farm and marketed at http://www.GoatMilkStuff.com.
Interviewed on FoxNews.com's hit news show, Fox Business, the Mom of eight home-schooled children, ages 5 to 15, told Anchor Lauren Simonetti that "We started with a bar of soap and now GoatMilkStuff.com has many scented and unscented soaps and related products. As our customers asked for more products we started expanding."
Due to focusing on all-natural chemical-free soaps of the highest quality, consumer demand has been growing. As a result, the Jonas family will next year move from their small 3-acre farm, to a nearby 36-acre Indiana farm. With business success well underway, the family is building a new home, a soap production facility and has plenty of room for the children to play and for scores of goats to graze.
The WXIN Fox TV affiliate in Indianapolis also reported on its hit show, Fox59 Morning News, about Goat Milk Stuff and the Jonas family in a feature report.
Fox59 Morning News anchor Jenny Anchondo interviewed PJ, who said she started making goat milk soap for her children to avoid the chemicals in so many soaps and shampoos. "When I put it in the shower, my husband's fingers stopped cracking and splitting and he had had trouble with that for years, so I knew I had a really good product." Within a few years the family started Goat Milk Stuff to sell soaps at local fairs and today the company markets across the USA and around the world.
PJ is a former engineer and Jim is a former teacher who homeschool their children. "In addition to learning from their studies, the children's experience working together has been both fun and educationally beneficial," said Jim.
Goat Milk Stuff and the Jonas family have been profiled on NBC's Today Show.
Many publications, including Oprah Magazine, have also reported about the family and its company.
Online at GoatMilkStuff.com, the Charlestown, Indiana company and makes and markets all-natural Goat Milk Stuff™ products including goat milk soaps, lip balms, lotions, bath bombs, laundry products and more. For media, licensing and entertainment, contact Brian Dobson at DobsonPR.com or BD at DobsonPR.com.