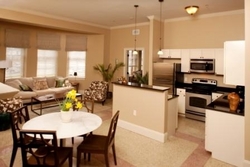 The best part about Chestnut Green Apartments is its proximity to just about anything a resident might need, including even health care
Foxborough, Mass. (Vocus) October 6, 2009
Last year, Caritas Norwood Hospital signed a 12,000-s/f medical and office lease at VinCo Properties Inc.'s Foxboro, Mass.-based Chestnut Green, a restoration of Greek revival architecture at the former site of Foxboro State Hospital. The centerpiece of this mixed-use residential, commercial and recreational development is VinCo Properties and Abrams Properties, LLC's joint creation, Chestnut Green Apartments, 55 luxury condo-style units whose residents now enjoy convenient access to health care.
"The best part about Chestnut Green Apartments is its proximity to just about anything a resident might need, including even health care," said Matthew Abrams, principal of Abrams Properties. "Caritas Norwood Hospital's offices at the surrounding Chestnut Green property just adds to the development's level of convenience for anyone who works or lives there."
People who work or live in and around the Chestnut Green community are now within walking distance of primary care physicians for routine check-ups and unexpected illnesses. The Caritas Norwood Hospital offices at Chestnut Green specialize in family medicine, primary care, obstetrics and gynecology, and endocrinology and feature a Multiple Sclerosis center.
Close to Routes 1, 95, 140 and 495, the Chestnut Green Apartments are just nine minutes from the MBTA commuter rail, with service to Providence and Boston suburbs. Chestnut Green itself is a 93-acre complex replete with office space, open-air retail, single-family homes and condominiums, as well as 40 acres of recreational fields including basketball courts, a softball diamond, soccer fields, jogging trails, a children's playground and a sand volleyball court. The suburban community offers the nearby Shops at Chestnut Green, a Stop & Shop Supermarket, Dunkin' Donuts, Walgreens, Reliable Dry Cleaners and much more.
Residential units are available from $1,150 to $2,900 a month, with limited time pre-leasing specials, including one to two months free rent as well as reduced application fees and security deposits on select units. Chestnut Green Applications are available online (chestnutgreenapts.com). For information regarding in-person viewings of these Foxboro apartments, prospective tenants and other interested parties may call 1-877-298-APTS.
About Abrams Properties, LLC
Abrams Properties, LLC was founded in 2007 by Matthew Abrams, a founding partner of The Abrams Group, LLC. Abrams Properties is a diverse real estate investment and development company with a focus on the adaptive re-use of historic structures into vibrant residential and commercial communities. The company seeks to create sustainable in-fill developments in urban settings with high barriers to entry and or strong potential for gentrification. Whether converting an historic shoe factory into luxury condominiums or acquiring a partially-leased office building, Abrams Properties implements a hands-on yet sophisticated approach to all their projects to create exciting and unique space at attractive prices to the competition. For more information, please visit http://www.abrams-properties.com .
About Chestnut Green
Chestnut Green Apartments are a part of Chestnut Green, an adaptive re-use development of the former Foxborough State Hospital site into a mixed-use community consisting of retail, commercial, and residential housing units. A strong team of industry leaders stands behind the Chestnut Green development, located approximately one-half mile north of downtown Foxborough, Mass. This development team is led by master developer Vince O'Neill of VinCo Properties, Inc. VinCo Properties has developed "The Shops" and "The Offices" in partnership with Matthew Abrams of Abrams Properties, LLC developing 15 townhomes - ''The Carriage House Flats'' - and 55 apartments. On the perimeter of the property, single-family homes are being developed by Michael Intoccia of Intoccia Construction Company and Douglas King of Douglas A. King Builders, Inc. King is also developing 60 town homes. For more information, please visit http://www.chestnutgreen.com .
Members of the news media interested in learning more about Chestnut Green may contact:
Lisa A. Nickerson
Nickerson PR
617-848-8193
lisa AT nickersonpme DOT com
###