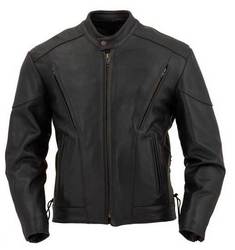 We cater to people who want high quality American made leather.
Independence, VA (PRWEB) October 13, 2010
Fox Creek Leather is celebrating Fall with a special 10% discount on some of its best-selling, weather-resistant motorcycle apparel. From the timeless vented racing jacket to specially designed polar fleece gloves to Thinsulate-lined chaps, Fox Creek] is for bikers who are tired of the stuff churned out by mass producers.
"We cater to people who want high quality American made leather," says owner and founder Paul Trachy. Over the past three decades, the family-owned company has carved out a singular reputation for durable motorcycle gear made by dedicated leather craftsmen.
Take the vented racing jacket, Fox Creek's best-selling jacket. Riders fall in love with the "simple yet timeless style" and praise the jacket's "perfect fit" and "amazing craftsmanship," right down to the zippers. Just check out the testimonials.
Another Fox Creek product earning rave reviews is the polar fleece-lined drawstring deer skin gauntlets. Fox Creek Leather designed these gloves with cold riding weather in mind. They've been called "buttery soft, yet durable" and are on sale for 10% off for a limited time.
Fox Creek will take $25 off orders of $100 or more before December 31. Just punch in the coupon code "prweb25" and save on your holiday shopping.
No matter what size or shape you are, Fox Creek will do its best to fit you. The company prides itself on going the extra mile to guide customers through the steps to get the perfect fit. Just call the friendly staff at the Blue Ridge Mountains headquarters and they'll personally answer any questions, help you with sizing, and make it easy for you to return or exchange items. There's a reason Fox Creek has developed a tremendous reputation for its customer service.
Fall is upon us and Winter's approaching. It's getting rough on those roads. Don't wait to take advantage of discounted prices on the best leather apparel around. From saddlebags to easy-to-use accessories to a wide range of classic, tasteful apparel for women who ride and drive, take advantage of Fox Creek's unparalleled workmanship at a fair price.
The internet is full of folks selling motorcycle leather that doesn't stand the test of time. But at Fox Creek, all jackets, chaps and vests come with a lifetime guarantee. For "leather that lasts a lifetime" at truly competitive prices, visit http://www.foxcreekleather.com or call (800) 766-4165.
###