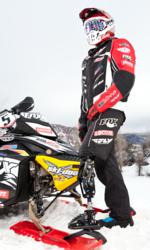 I'm helping people do things they haven't done since they had two good legs, and that's worth it right there.
Scotts Valley, CA (PRWEB) April 16, 2013
FOX, the industry leader in ride dynamics, is proud to announce that one of its world-class athletes, Mike Schultz, has developed technology that was honored with a 2013 Popular Science Invention Award. Schultz's Versa Foot, a sport prosthetic device he developed after losing his leg in a snocross accident, employs FOX shocks to improve performance. The Versa Foot was named an award winner in PopSci's seventh annual Invention Awards issue, and was selected from among hundreds of other entries worldwide.
THE FOX/VERSA FOOT CONNECTION
Mike's award-winning Versa Foot makes use of a custom-tuned FOX mountain bike shock to provide a level of fine-adjustability that traditional prosthetic feet lack. "Having already used a FOX shock in my Moto Knee, the prosthetic leg I developed, I knew that I would take advantage of FOX's superior suspension dynamics in the Versa Foot as well," said Mike.
"FOX is so proud to be a part of Mike's success, literally and figuratively," said Dan S. Robbins, FOX's Corporate Marketing Manager. "Mike is not only an amazing athlete, but also a great guy with a huge heart and the strong desire to help others do what they love. We're excited that Mike's invention was recognized by Popular Science as one of the most innovative, exciting inventions of the past year."
MIKE AND FOX GO "WAY BACK"
Currently one of FOX's sponsored athletes, Mike's relationship with the company goes back to before the 2008 snocross accident that resulted in the loss of his left leg. "FOX and I go way back…I got to know the FOX folks pretty well as the result of spending time at races with them over the years," said Mike. "Within a few weeks of my accident I realized that my everyday prosthetic wasn't going to allow me to do the things I wanted to do and so I started thinking about creating something better. I knew I wanted to use a FOX shock in my prosthetic to help with the suspension, but I needed some help putting together the pieces for the prosthetic prototype," Mike explained.
"I called my friend Rick [Strobel] at FOX to let him know what I was working on and he invited me into the FOX shop in Baxter and showed me how to use some of the machining equipment. Within a couple of weeks, I had the first working prototype of the Moto Knee—the prosthetic leg I built using FOX shocks. Fast forward about 18 months and I started working on the Versa Foot—and once again counted on the lightweight yet durable FOX shock to provide the right level of damping, adjustability, and energy return."
WORLD-CHANGING DEVICES THAT SOLVE REAL-WORLD PROBLEMS
"World-changing devices don't need to come from big labs funded with big money. Sometimes radical technological innovations roll, whir, or fly out of basements and garages," said Dave Mosher, Projects Editor for Popular Science. For the Invention Awards, Popular Science editors picked the "10 entries that best represent the spirit of homegrown ingenuity and solve real-world problems in a practical, innovative way." To qualify for award consideration, inventions needed to be "something new, not just a minor, incremental improvement on an existing object or product" and must be "poised to create a market or disrupt an existing one."
"The Invention Awards embodies all the best parts of Popular Science and the age we live in. Everyday thinkers and makers now have the tools, the resources, and the information to create amazing new devices and technologies—whether it is software, hardware, vehicles, or materials," said Jacob Ward, Popular Science's editor in chief. "We've always celebrated the amateur inventor, but the rise of crowdfunding, 3-D printing, home manufacturing, design software, and all the other innovations we cover has made this an especially satisfying time to give out the Popular Science Invention Awards."
"I'M HELPING PEOPLE DO THINGS THEY HAVEN'T DONE SINCE THEY HAD TWO GOOD LEGS"
Mike, who recently brought home his third Winter X Games gold medal, devotes much of his free time to helping other amputees, including wounded soldiers returning home. "This whole project started out because I wanted to allow myself to do the things I wanted to do, but it's evolved way past that," Mike said. "I'm helping people do things they haven't done since they had two good legs, and that's worth it right there."
"It's like the most rewarding job anybody could have. To see the look on their face when they strap on the Moto Knee and they go shredding down the mountain on a snowboard and get down to the bottom and just give me this big ol' high five and say 'Man, that's the best I've ever snowboarded since I had two good legs!' That just motivates me to keep going and develop new equipment. It's just a pretty cool deal all the way around."
ABOUT FOX
FOX redefines ride dynamics for ATVs, mountain bikes, motocross, off-road vehicles, snowmobiles, trucks and UTVs. In 1974, Bob Fox redefined the world of motocross suspension with the FOX AirShox, and for more than three decades, FOX's team of enthusiasts and professional athletes have been uniquely committed to redefining ride dynamics that improve your performance. Headquartered in Scotts Valley, Calif., FOX's main manufacturing operations are in Watsonville, Calif., its off-road division and manufacturing are in Santee, Calif., and its Midwest Service Center is in Baxter, Minn. FOX distributes its products in more than 40 countries.
FOX is a registered trademark of FOX. All other brands, product names, company names, trademarks and service marks are the properties of their respective owners. All rights reserved.
###