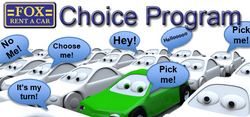 I was amazed to be offered a great choice of so many cars…excellent!
Los Angles, CA (Vocus) April 7, 2010
After a very successful initial implementation period in Los Angeles, Fox Rent A Car will begin to expand the installation of it's CHOICE vehicle delivery system in additional Fox locations.
The process, as implemented, allows the customer to complete their rental paperwork at the counter, and then go to the ready area to choose from many vehicles available in the car class that the customer has selected. This format speeds up the rental process, reduces the customer's time at the counter, and allows the customer the advantage of actually choosing the car they want to drive.
The CHOICE system was originally introduced at the Fox location at the Los Angeles airport. The customer service response was immediate. "Best in the World" responded one customer. "I was amazed to be offered a great choice of so many cars…excellent!" offered another customer when responding to the company's Customer Service follow up inquiry.
"Fox is consistently trying to improve it's customer service initiatives," stated Tonia Brown, Operations Manager for Fox Rent A Car. "By allowing the customer to select their own vehicle, they get immediately involved in the rental process and they enjoy it." If the customer sees another vehicle in a different car class, they can have the attendant change their selection without having to return to the rental counter.
Fox will be implementing the CHOICE system in Las Vegas, San Diego, San Jose, San Francisco and Seattle, and expect to have the implementations completed by July, 2010. Phoenix and Oakland will be in place by October 2010.
Visit the Fox Rent A Car blog for more information on the CHOICE system and other Fox programs.
Fox Rent A Car is a discount car rental company that offers great prices and superior customer service to its' customers from 12 airport locations in the Western US.
###