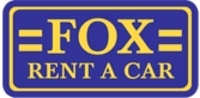 The recent growth of our Rewards Program is proof of its benefits to our customers
LOS ANGELES (Vocus) May 12, 2010
Fox Rent A Car, a leading discount car rental company serving 12 major airports in the West, announced today that the Fox Rent A Car Rewards Program has reached 300,000 members. The Fox Rent A Car Rewards Program attracted more than 110,000 new members in 2009, the steepest increase since the program started in 2003.
"The recent growth of our Rewards Program is proof of its benefits to our customers," said Joe Knight, executive vice president, business development. "With Fox's convenient rental locations, consistency in customer service and low rates, more and more customers are recognizing the value of the Rewards Program and the value of the Fox brand."
Program Offers Flexibility and Choice
The Fox Rewards Program gives frequent travelers a way to quickly earn the rewards they want most. Members earn points for every rental car that is booked and rented through the Fox Rent A Car website for any of the 12 locations in the U.S.
To redeem points, the program offers two options: members can receive additional savings on future car rentals from Fox as well as order gift certificates for hotels, airlines, theaters, spas and hundreds of popular stores through GiftCertificates.com.
While there are certain terms and conditions, there are no blackout dates for using Fox Rent A Car rewards. In addition, members also receive a monthly newsletter with exclusive offers and discounts on rental cars.
To sign up for a free membership to the Fox Rewards Program, travelers can visit the Fox Rewards page. All activities, including account look up, account modifications and point redemption are done online.
For up-to-date information about the Fox Rewards Program and Fox Rent A Car news as well as other promotions and special events, visits the Fox Rent A Car blog.
About Fox Rent A Car
Headquartered in Los Angeles and founded in 1989, Fox Rent A Car is a discount car rental company that offers great prices and superior customer service to customers in the Western U.S.
Fox now serves these 12 airport locations: Phoenix (PHX), Salt Lake City (SLC), Los Angeles (LAX), Ontario (ONT), Burbank (BUR), Oakland (OAK), San Jose (SJC), Orange County (SNA), Las Vegas (LAS), San Diego (SAN), Seattle (SEA) and San Francisco (SFO).
###