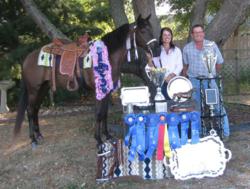 Indianapolis, IN (PRWEB) April 23, 2012
Fox Trotter horse trainer Erin Stevens will teach techniques for the trail and show ring in a gaited horse clinic on May 5-6 at 4 U Ranch, 319 East US Highway 136 in Lizton, near Indianapolis, IN. For information call 812-720-0356 or 812-583-4646.
The clinic is sponsored by the Indiana Fox Trotter Association and the Missouri Fox Trotting Horse Breed Association. Key topics will include:

Horsemanship skills and the rider's influence on their gaited horse.
Gaiting issues and how to improve your horse's gaits.
Goals to successful showing.
Teaching rider and horse proper maneuvers.
Overcoming trail obstacles.
Importance of leg yields – side passing, pivoting and two tracking.
Using correct tack for your horse for show and trail.
There will be a "fun show" on Sunday afternoon for participants to show off their horses and apply what they've learned. Additionally, Beth Draper, CEMST, Certified Massage Therapist and owner of Healing Touch Animal Therapy will be on the premises Saturday, May 5th and Carol Weir, Certified ESMT and owner of Winning Hands Equine Sports Massage Therapy, Inc., will be on the premises Sunday, May 6th. Pitch-in lunch will be held on both days.
Advanced registration is required by April 30, 2012 to guarantee horse/rider spot in the clinic. Payment in full must be paid at time of registration. Non registered horse/rider teams will be accepted the day of the clinic if space allows. Fees are:
$100 horse and rider (MFTHBA member)
$125 horse and rider (non-MFTHBA member)
$15 per day to audit or $25 for both
$10 per day for each stall
$10 per day for overnight parking
Make check payable to: Indiana Fox Trotters Association, Inc., and mail to: Sandy Fox, Treasurer, IFTA, 51172 Channel Court, Elkhart, IN 46514
Fox Trotters have been gaining popularity as competitive trail mounts, ranch horses, and pleasure horses. Most notably, Mitt Romney, contender for the U.S. Presidency, recently praised his Fox Trotter in comments to Sean Hannity. Three Fox Trotters made the finals in ACTHA's America's Favorite Trail Horse Competition. A Fox Trotter has been named Horse of the Year by Friends of Sound Horses for three consecutive years.
About the Missouri Fox Trotting Horse Breed Association (MFTHBA)
Fox Trotters originated in Missouri as ranch horses bred for smooth riding gaits as well as stamina for mountain riding and heavy ranch and farm work. They are known for versatile athleticism, the naturally smooth flat walk and fox trot gaits, and an endearing, trainable personality. Since 1948, the MFTHBA has worked to promote the Fox Trotter gaited horse and support a registry for horses that meet the breed standards of gait and conformation. Today there are more than 96,000 registered Fox Trotters worldwide. Visit http://www.mfthba.com .
Media Contacts:
Carol Weir, Certified ESMT
812-720-0356
calahitchcockweir(at)yahoo(dot)com
winninghands(at)sbcglobal(dot)com
Donna Watson, MFTHBA
417-683-2468
donnawatson(at)mfthba(dot)com