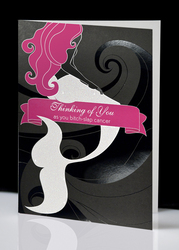 Our entire line is designed to give women a voice and say the things we all want to, but don't. Our hope with the Cancer Card is that we can do just that for a group of women who really need the attention.
(PRWEB) October 13, 2010
Young Survival Coalition (YSC) and Foxy Blunt have partnered to raise money for breast cancer research through a new greeting card designed to empower young women. Every year, approximately 11,000 women are diagnosed with breast cancer at the age of 40 or under; this group of women remains under-diagnosed, under-treated, and under-acknowledged. The card uses the power of humor to not only raise much-needed funding, but also to bring laughter to those facing the disease.
Despite the prevailing opinion that young women don't get breast cancer, the reality is that they can and do. In fact, breast cancer accounts for 26 percent of all cancer in females 15-39 years of age and 39 percent of all cancer in 35-39 year olds.1 However, most research is focused on post-menopausal women, with premenopausal women—particularly those in their 20s and 30s—dramatically under-represented. This gap in research data makes it even more challenging for young women to navigate through their breast cancer experience, which is already wrought with unique challenges.2
"This alarming trend of women facing breast cancer at increasingly young ages is being largely ignored," says Foxy Blunt co-founder Danielle Caro. "As passionate supporters of breast cancer research who have unfortunately been the frustrated bystanders as someone close to us prepares to battle it, we wanted to create a card that would not just raise money, but would also act as a support for those affected. Our entire line is designed to give women a voice and say the things we all want to, but don't. Our hope is that, together with Young Survival Coalition, we can do just that for a group of women who really need the attention."
The partnership between Young Survival Coalition and Foxy Blunt is designed to raise awareness for this issue through the use of a bold greeting card that will not only raise money for research, but also provide a voice to this underserved population. The collaboration begins October 1st in honor of Breast Cancer Awareness Month and will continue for a year, with the hopes that together they can generate additional awareness and support for young women.
"While breast cancer in young women accounts for a small percentage of all breast cancer cases, the impact of this disease is widespread," explains Jenna Glazer, director of development at YSC. "Because people tend to be less aware of the issues surrounding young women diagnosed with breast cancer these women often feel isolated. Our goal has always been to create a true community for this population, and our partnership with Foxy Blunt is key in that we are not only providing a useful tool to help those diagnosed and their loved ones, but are providing these women with the means to have a stronger voice."
Much like the rest of their line, the Foxy Blunt Cancer Card is designed to tell it like it is, but with style. Created to bring a smile to the face of someone recently diagnosed and to underscore that they have the strength to beat it, it utilizes the line "Thinking of You … as you bitch-slap cancer" along with an elegant visual of a mermaid. The card is blank inside, and retails for $4.95, with 50% of the proceeds going directly to Young Survival Coalition. It is available for purchase online at foxyblunt.com.
Young Survival Coalition is the premier global organization dedicated to the critical issues unique to young women and breast cancer. YSC works with survivors, caregivers and the medical, research, advocacy and legislative communities to ensure that no young women's left to face breast cancer alone. youngsurvival.org
Foxy Blunt is a new line of greeting cards that fuses bold designs with devilish humor. Designed for those who appreciate a good laugh, but aren't willing to sacrifice style to deliver one, Foxy Blunt cards are the first of its kind to seamlessly blend high-quality design and humor. Appealing to the modern metropolitan of both sexes, all cards are blank inside and retail for $4.95 apiece or $19.95 for a mixed box set. Boxed notes and holiday cards are also available at varying price points. foxyblunt.com.
1) Figure based on the 2000 U.S. Census data.
2) http://www.youngsurvival.org/research
###