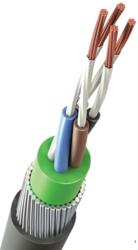 Our range demonstrates technical capability second to none built upon an understanding of the rigorous operational requirements of the modern rail industry
County Durham, UK (PRWEB UK) 7 January 2013
To meet demand for the latest high specification fire performance SWA cables, materials scientists at AEI recently developed new compounds for their Firetec Impact Power cable to fulfil the demanding sub surface (Section 12) requirements of London Underground as well as those of the F120 category of BS7846.
Clive Sharp, AEI's CEO says, "We are delighted that LUL has recognised the quality and capability of our Firetec FP cables range. These cables have all demonstrated compliance with the London Underground's strict regime minimising smoke emission, halogenated gas, and flame propagation in Category 1 standard 1-085.
"Our range demonstrates technical capability second to none built upon an understanding of the rigorous operational requirements of the modern rail industry. Where passenger safety is paramount there can be no compromise and no better fire protection cable range than AEI."
Fully BASEC approved, the list of 'FP' cables from AEI are Firetec Standard– a Standard Grade fire alarm & emergency lighting & control cable; Firetec Enhanced– an Enhanced Grade fire alarm & emergency lighting & control cable; Firetec Impact Power– a new high performance BS7846 F120 & BS8491 (BS8519) rated SWA cable and Firetec Power– a BS7846 F2 SWA cable which has also demonstrated ability to meet BS8434-2. The cables and datasheets can be found on London Underground's 'Approved Products Register'. http://www.lu-apr.co.uk
The AEI Firetec range of cables are all 'Low Smoke Zero Halogen' LSZH – providing buildings and infrastructure the highest safety levels for life safety and fire-fighting. The same fire performance criteria is considered desirable for property protection and business continuity where interruption of service is to be avoided.
AEI Cables has supplied the rail sector in London for over 100 years as well as providing many diverse cable solutions to London Underground. Adding Firetec high performance cables demonstrates AEI's capacity to meet and exceed performance levels in this very demanding sector. As well as FP cables, many more AEI products have been approved for use by London Underground including track feeder cables. The AEI team continually work alongside LUL project engineers to develop more solutions to meet specific rail objectives.
Current workload in rail infrastructure is buoyant in the UK and is growing – significantly with LU upgrades as well as with the Crossrail project The main civil engineering construction works for Crossrail are planned to complete in 2017. Fit-out of stations and testing will continue afterwards. It is expected that Crossrail services will commence on the central section by late 2018 followed by a phased introduction of services along the rest of the Crossrail route over several months.
Editor's Background Information:
London Underground issued a Cat 1 Standard 1-085 Issue A3 March 2011. This has the title of "Fire Safety Performance of Materials", and specifies requirements for all flammable materials installed in underground locations with regard to flammability, smoke emission and toxic fume emission. It applies to 'Section 12' stations, passenger and engineering trains, running tunnels and a number of other locations with particular features.
Cables are covered under section 3.3.3. Sub-section 3.3.3.1 covers flammability and requires a vertical ladder propagation test to either BS EN 60332-3-24 or BS EN 60332-3-25 3.3.3.2 covers smoke emission and requires testing to BS EN 61034-2 using the apparatus to BS EN 61034-1 the well known three metre cube. 3.3.3.3 includes a requirement regarding burning drips or debris, and 3.3.3.4 covers toxic fume requirements.
AEI operates from a 26.5 acre factory site in Birtley, Co. Durham and its products are approved by independent bodies including BASEC and LPCB covering design, manufacture and supply. The company also holds approvals from Lloyds, MoD, Network Rail and London Underground Ltd, and works to international standards around the world including Cenelec, IEC, ISO, American and Canadian.
In addition to fire performance cables, AEI designs and manufactures a full range of elastomeric and thermoplastic cables for voltages up to 20kV, high performance PEEK and ETFE thin wall cables and wires for rail, mining, defence, oil and gas, construction, industrial and power markets.
AEI is also a key supporter of the Approved Cables Initiative (ACI) which aims to rid the industry of dangerous low grade counterfeit cables and warn about both the physical hazards as well as the inherent litigation risks of installing cable that is not fit for purpose.
In 2007, the company became part of Paramount Communications Ltd, one of India's largest cable manufacturers which adds to the range with a wide variety of specialised cables and wires.