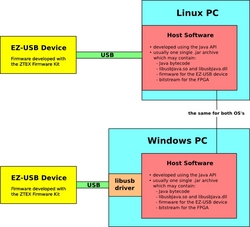 (PRWEB) October 4, 2010
In order to support the Open Source Community ZTEX (see http://www.ztex.de) launches an Open Source Discount Program. Customers developing Open Source projects based on ZTEX USB-FPGA Boards and Microcontroller Modules can get a discount of up to 50% (or even more).
ZTEX is a leading producer of EZ-USB FX2 based FPGA Boards and Microcontroller Modules mainly intended for prototyping and small series productions. In combination with base boards they can also be used as development / evaluation platform.
According to our 'open' product philosophy ZTEX has developed an Open Source EZ-USB SDK which is, of course, mainly intended for ZTEX USB-FPGA Modules and Microcontroller Boards, but also works with other EZ-USB FX2 based hardware.
Some of the products for which a discount can be obtained are:

The requirements for taking part in the Open Source Discount Program are:

An open Source project based on a ZTEX product
The project has to be published in English or German language (e.g. at the ZTEX Wiki, see http://wiki.ztex.de)
The ZTEX product has to be referenced (e.g. by a link to the products page)
The project should be non-trivial and unique.
The amount of the discount depends on

complexity of the project,
quality of the presentation,
innovation,
re-usability of the project / source code
The usual discount range is 15% to 50%. Some examples are

15% for a project implementing a one wire interface (e.g. for a duty cycle modulated temperature sensor or a biphase mark code (BMC) S/PDIF interface)
15% for a tutorial containing simple examples
30% for the implementation of the USB Audio interface
30% for the interfacing an audio Codec (e.g. CS42448) or video Codec (e.g. ADV7202)
50% for an audio or video processing example including a Codec interface
50% for implementation of a small processor, i.e. a MCU
> 50% for implementation of a complex processor, i.e. a CPU
> 50% for porting an operation system to an (already implemented) processor
More information about the Open Source discount prgramm can be found at http://localhost/ztex/ztex/os_discount_program.e.html
The main Features of the Open Source EZ-USB SDK (see http://www.ztex.de/firmware-kit/index.e.html) are:

Firmware upload into the EZ-USB FX2 Microcontroller and into EEPROM via USB
Bitstream upload into FPGA and Flash memory via USB (no JTAG adapters or other additional tools required.)
access to EEPROM and Flash memory
FPGA configuration / programming from Flash memory
many examples
feasible for standalone applications
Java host software API for development of platform independent host software
separate upload utilities for usage with other host software programming languages or third party driver development kits
The SDK package consists in the Firmware Development Kit, The Java host Software API and many examples.
The Firmware Development Kit for the EZ-USB microcontroller is written in C. A macro extension allows to specify all required settings (e.g. Endpoint configuration) by a few macro commands. The necessary USB descriptors and the descriptor handling routines are generated automatically.
This approach allows rapid development of the firmware and ensures a maximum of flexibility (all endpoints are fully configurable).
The host Software API is written in Java and allows the development of platform independent host software. It is possible to pack all necessary files (native libraries, firmware, bitstream) into one single jar archive which runs on both, Linux and Windows (and other OS's that support libusb and Java)
Using the upload utility from the SDK package it is also possible to develop host software using other programming languages or third party driver development kits.
The examples collection consists in many useful examples which may be used as starting points for various application, like uninterrupted high speed data acquisition via USB 2.0 using a large DDR SDRAM FIFO and the hard memory controller included Spartan 6
(for ZTEX USB-FPGA Modules 1.11)
# # #