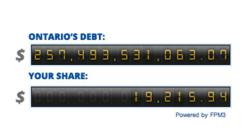 FPM3 president, Adam Oldfield states, "I'm very concerned for Ontario businesses and residents, with respect to how our Ontario debt continues to climb. Our spending is out of control and small businesses and residents of Ontario are the ones that have to
Hamilton, Ontario (PRWEB) March 21, 2012
FPM3.com has created, and now offers, the Ontario Debt Calculator to track how much every Ontario resident owes.
The Ontario debt calculator was created to allow Ontario residents to have a clear vision of how much each person owes and clearly shows the amount is increasing by the second.
The Ontario debt calculator was developed by FPM Marketing and Design Inc/ FPM3 and calculates, down to the penny, exactly what Ontario residents have to pay and what Ontario's current debt load is. It's designed to show how much each Ontario resident is responsible for towards the total Provincial debt.
MPP, Rob Leone, Conservative Representative has just launched his website http://www.robleonempp.com including the Ontario Debt Calculator.
The Ontario debt calculator is now available to any website following simple instructions available at the website http://fpm3.com/debtclock/
FPM Marketing & Design is a full service online marketing and advertising agency specializing in graphic design, website design and online programming including mobile app development. FPM3 has locations in Hamilton, Ontario, North Bay, Cambridge, Ontario and with office in New York, New Jersey and Philadelphia, PA and is Canadian owned incorporation. http://www.fpm3.com.
If you wish to find out more information about the Ontario Debt Calculator please contact Raven Cook, Coordinator at FPM3 905-777-9503 ext 26 email: raven(at)fpm3(dot)com