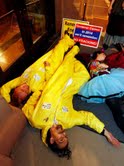 We must begin to look at protecting our water and children's health as a human rights issue.
Albany, NY (PRWEB) May 18, 2012
On May 15th, grassroots citizens of New York and beyond took their message to Albany and called on Governor Andrew Cuomo and the New York State Department of Health to stop all new gas extraction until a full public health assessment has been conducted. They demanded that the Governor withdraw the Revised Draft SGEIS that addresses permit conditions required for gas drilling in the Marcellus Shale, and that New York State ban hydraulic fracturing on the basis that it poses serious health and environmental risks.
They also called on President Obama to repeal the Energy Policy act of 2005, which exempted the oil and gas industry from the protections of The Clean Water Act, Safe Drinking Water Act, and Clean Air Act.
The event included music, speakers, and a variety of peaceful direct actions in and around the Capitol, including a collection of water at the Hudson River and a peaceful die-in protest, which resulted in two arrests. Abram Loeb, founding organizer of Frack Free Nation and Joanne Farrell of Occupy Albany were charged with disorderly conduct after they allegedly sprawled in front of the doors to the Executive Chamber. Colia Clark, a 2012 New York Green Party candidate for US Senate and civil rights activist, lead the crowd in singing, "It isn't nice to block the doorways, it isn't nice to go to jail. There are nicer ways to do it but the nice ways always fail," as the two activists blocked the doors.
"The peaceful day of action was a success in uniting the grassroots of the environmental and social justice movements together for a ban on fracking," said Loeb. "We must begin to look at protecting our water and children's health as a human rights issue."
The day began with a press conference at the entrance to the Capitol where Frack Free Nation provided a platform for grassroots candidates and their supporters. Tom Porter, the Chief of the Kanatsiohareke Mohawk Community, opened the event with a traditional prayer for all of creation and the next seven generations to come. At Noon, Walk About Water and Frack Free Nation joined in a walk to the Hudson River, where participants collected water to carry back to the Department of Health and Capitol building.
At 2:30 p.m. Frack Free Nation held a rally in The War Room of the Capitol building and presented Governor Cuomo with a basket of sustainable produce from upstate New York that would be adversely affected by fracking, including Cortland apples, New York State cheese, organic wine from the Finger Lakes, and maple syrup. Speakers included Colia Clark, Joel Tyner, a candidate for Congress in the newly created 19th Congressional District, and Eyad Alkurabi, the National Organizer for Get Equal.
At 4:00 p.m., the Frack Free Nation Grassroots Peaceful Day of Action paused to join the All Star Rally hosted by New Yorkers Against Fracking.
Contact:
Abram Loeb
607 296-1966 (cell)
abram(at)FrackFreeNation(dot)org
http://www.FrackFreeNation.org
##
Frack Free Nation, Inc. is a nonprofit formed to educate about the impact of the petrochemical and nuclear industries on a broad range of environmental, peace and social justice issues. Frack Free Nation seeks to mobilize the public to participate in the democratic process regarding these matters for the next seven generations.