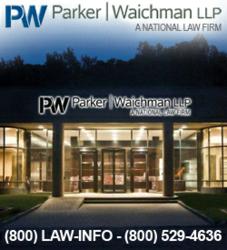 The Appeal alleges that the Determination is unclear regarding where the samples were collected from and does not include some basic information.
New York, New York (PRWEB) June 04, 2013
Parker Waichman LLP, a national law firm dedicated to protecting the victims of toxic exposures, filed a Notice of Appeal (docket no. 2013067) on May 28, 2013, on behalf of a Pennsylvania couple before that Commonwealth's Environmental Hearing Board; it challenges an earlier Determination (58 Pa. C.S. & 3218) by the Pennsylvania Department of Environmental Protection that proclaimed that certain gas well operations did not contaminate the couple's drinking water supply. The couple is alleging that the Determination is arbitrary and capricious and not based on any supporting scientific data or evidence.
The Appeal alleges that the Determination is unclear regarding where the samples were collected from and does not include some basic information, such as the sample collector's name, the number of samples taken, and how the samples were collected and transported for testing. The Appeal also alleges that the Determination does not reveal the method used to analyze the samples for contaminants. In addition, it only offers results for a limited number of contaminants, not mentioning whether the samples were tested for other contaminants. Also allegedly missing from the analysis, according to the Appeal, are details about the contamination levels of public water sources in the Plaintiff's region prior to the drilling of a number of DePue Wells, which WPX Appalachia LLC and WPX Energy Inc. own and operate, according to court papers.
The Appeal concludes by requesting that the Environmental Hearing Board order the Department to investigate and determine whether the Plaintiffs' water supply was impacted by the gas well drilling, or fracking.
Hydraulic fracturing (or fracking) specifically refers to a type of drilling that combines water, sand and other chemicals for the purpose of cracking rocks deep beneath the ground to free trapped shale gas, WNYT.com, the news website of Albany, N.Y.-based NBC-affiliate WNYT, wrote on May 31, 2013.
A May 15, 2013 report by the (Pittsburgh) Post-Gazette said that about 58 percent of respondents to a survey would back a moratorium on hydraulic fracturing until there is a fuller understanding of the risks, according to a poll released around that time.
State environmental regulators determined that oil and gas development damaged the water supplies for at least 161 Pennsylvania homes, farms, churches and businesses between 2008 and the fall of 2012; this data was taken from a cache of nearly 1,000 letters and enforcement orders written by Department of Environmental Protection officials, according to a May 19, 2013, (Scranton, Pennsylvania) Times-Tribune.com report.
Parker Waichman LLP continues to offer free legal evaluations to anyone who believes their property or health has been damaged because of fracking. For more information, please visit Parker Waichman's hydraulic fracturing page at http://www.yourlawyer.com or call 1-800-LAW-INFO (1-800-529-4636).
Contact:
Parker Waichman LLP
Gary Falkowitz, Managing Attorney
(800) LAW-INFO
(800) 529-4636
http://www.yourlawyer.com