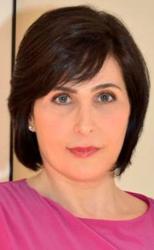 Fractal Hypnosis is not only to cure dental pain, but manage your stress, lower blood pressure and more!", says Dr. Guarna
Stamford, CT (PRWEB) October 22, 2012
Dr. Anna Guarna is a Celebrity Doctor that has been nationally featured on CBS Money Watch, The Boston Globe, and The Los Angeles Daily News, is scheduled to co-author a new business book, 'Leading the Field: Strategies, Advise & Inspiration From World Class Experts'. In this new business book, Dr. Guarna will be sharing her expertise in improving the quality of care for her patients through hypnosis.
Dr. Anna Guarna is a dentist that has had a private practice for over twenty years. Fifteen years ago, she incorporated hypnosis into her practice as a means to improve the quality of care for her patients. Over the years, she has had success with various dental issues such as, dental phobias, dental pain, anesthesia, and TMJ/stress management. Soon, non-dental patients began calling for appointments for related issues such as, smoking cessation, stress management to reduce high blood pressure and weight loss to reduce the need for diabetic medications.
Dr. Anna Guarna is not only a certified dentist but also a clinical hypnotherapist and through a new form of hypnosis called Fractal hypnosis she has improved patient's pain management. Fractal Hypnosis is a revolutionary new form of hypnosis which not only combines hypnosis and brainwave entrainment, but adds a fractal component to the treatment. This allows the hypnotic suggestions to work on several layers at once.
As a clinical hypnotherapist, Dr. Guarna sees the benefits of using Fractal hypnosis not only in her patient's dental pain but also in other trouble areas. "Fractal Hypnosis is not only to cure dental pain, but manage your stress, lower blood pressure and more!", says Dr. Guarna.
Dr. Anna Guarna is excited to be participating with other leading experts and best-selling author Robert Vitelli, to provide readers with useful and practical information about how to succeed in various professions, through this new book.
FractalSync
http://www.facebook.com/FractalHypnosis
Anna Guarna
AGuarna (at) GtGi (dot) net
203-524-4554
"I Support The H.O.M.E. Foundation"
About The H.O.M.E. Foundation:
The Helping Others Means Everything, or The H.O.M.E. Foundation, is a not-for-profit organization dedicated to helping our Family of Charities. Frankie Verdugo, President of The HOME Foundation, wants to help as many worthy charities as possible as they struggle during these tough economic times. Frankie Verdugo helps raise funds through luxury dream home raffles, home giveaways, prizes, and high profile celebrity events in Hollywood... "Our mission is to help charities reach their fundraising goals and to bring awareness to their praiseworthy causes."