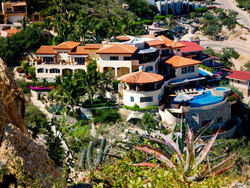 Now the Broker and Sales Agent community have a truly viable vacation home alternative to whole ownership for their clients.
Prescott, AZ (Vocus) April 3, 2009
E3Escapes is proud to announce the partnership with Prudential California Realty Cabo Gold Division to market and sell the ultra-luxury fractional ownership concept, E3Escapes – The Villa Las Palmas Collection, in beautiful Cabo San Lucas, Mexico.
The Villa Las Palmas Collection is the first ever 3-dimensional, ultra-luxury fractional home ownership program offering a 13,000 sq. ft. mansion, a 60-foot luxury yacht, and unparalleled 6-star services. An amenity rich collection, this is truly the first of its kind within the fractional shared home ownership market.
The Villa Las Palmas Collection provides a few fortunate owners the exceptional opportunity of experiencing all the exciting lifestyle advantages of second-home ownership without all the hassles, wasted time and costs associated with management and maintenance.
Set within the exclusive gated community of Pedregal, overlooking Cabo San Lucas and the Sea of Cortez, each villa consists of 6 bedrooms, 10 bathrooms, and can accommodate up to 16 people in luxurious comfort. Each balcony overlooks the Marina below the second dimension of the collection and Spartacus at Sea, the tournament-award winning 60-foot Hatteras Sport Fishing Yacht.
Owners and their guests experience exceptional 6-Star Service which begins with a jet/plane hangar at the local Cabo Executive Airport (for personal jet and/or plane should they own one), and continues with a dedicated staff of seven (7) to cater to their every need.
"This is unlike any other fractional home ownership program out there," said Tim Gesner, E3Escapes president. "This is a unique blend of a private luxury villa with white-glove 6-star service, plus the incredible 60-foot Spartacus at Sea sport fishing yacht with an experienced captain and crew. The Villa Las Palmas Collection provides those looking for a second home in Cabo San Lucas the ultimate vacation lifestyle at a fraction of the cost."
Fractional ownership is the fastest growing segment of the vacation home market and is expected to be the first segment of the real estate market to recover from this current economic climate. Fractional ownership is recognized as being a more cost effective alternative to buying and maintaining a luxury vacation home that might only be used a few weeks out of every year. Fractional plans provide the owner an equity stake in the property which can be sold or transferred like wholly owned real estate, while providing the flexibility of only owning and paying for the time you use.
"Over the years, we've seen many attempts to fractionalize homes in Cabo, but never before have we seen such an exceptional concept, at the right time for this market," said Debra Dodson, Broker for Prudential California realty's Cabo Gold Division. "Now the Broker and Sales Agent community have a truly viable vacation home alternative to whole ownership for their clients."
For additional information on the E3Escapes fractional ownership collection, The Villa Las Palmas Collection, or information related about the Prudential California Realty Gold Division, please visit the E3Escapes website or call our toll free number: 877.336.3942
About E3Escapes:
With over 100 years of leadership experience, E3Escapes is an innovative development company offering ultra-luxury fractional home ownership collections in highly desired and elite vacation destinations globally. Each shared vacation home ownership collection contains three different elements that are reflective of the vacation lifestyle indigenous to the area, providing an unparalleled and unmatched experienced to its respective owners. The Villa Las Palmas Collection in Cabo is the initial fractional ownership opportunity in the E3Escapes portfolio. E3Escapes is currently planning and reviewing the addition of future collections in Cabo and other desired vacation locations.
About Prudential California Realty Gold Division:
Prudential California Realty - Cabo Gold Division is a full service real estate company in Cabo San Lucas. Through our three offices and 30 agents, we offer a complete, multilingual, personal and professional service to our clients. As members of the MLS NAR, AMPI and the Who's Who in Luxury Real Estate, we operate ethically and to the highest standards. As a result, we have sold more homes in region than any other company. As part of the Prudential California Realty network, a group with several billions of dollars in sales annually, fractional owners are assured their investment in Cabo is in the hands of the most professional and knowledgeable company available.
###