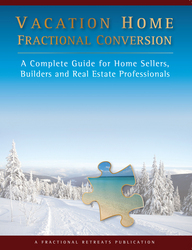 The key to successful fractional home conversion is education and expert guidance
Boise, ID (PRWEB) June 12, 2008
Fractional Retreats LLC, a Boise based company has just released a comprehensive new book aimed at educating vacation home sellers and real estate professionals about fractional home conversion.
Fractional home conversion is simply the act of taking a single family home and converting it to fractional ownership. For decades, this has been done in an informal way between families, but now fractional home conversion is growing in popularity with sellers due to the slow market conditions.
Fractional home conversion:

Creates a larger potential market – with more buyers at a lower price point.
Allows the seller to keep a share in the home and reduce annual expenses and debt.
Gives the seller more options – he or she can often list the home fractionally simultaneous with a traditional full listing.
"The key to successful fractional home conversion is education and expert guidance," says Fractional Retreats Founder and CEO, Daniel Morton. His company provides both. For those wishing to first dip a toe in the water, Fractional Retreats offers a comprehensive guide titled: Vacation Home Fractional Conversion: A Complete Guide for Home Seller, Builders and Real Estate Professionals which walks the reader through the basics of fractional home conversion. If hands-on advice is desired, the company also provides fractional conversion management and consulting services nationwide.
About Fractional Retreats:
Fractional Retreats LLC is focused on educating the public about fractional ownership and fractional home conversion concepts. They provide a number of products and services ranging from free and low cost publications to personalized fractional home conversion consulting.
Vacation Home Fractional Conversion (ISBN: 978-09816427-0-3) is available through Fractional Retreats and Amazon.com for $44.95.
###