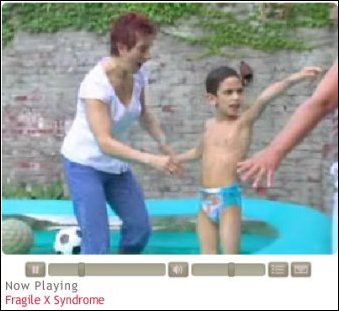 Real Moms, Real Stories, Real Savvy
New York, NY (PRWEB) July 12, 2007
When Debbie Stevenson, chairperson of FRAXA Medical Research Foundation learned that her son Taylor had Fragile X she said, "I think getting a diagnosis of Fragile X is almost unbearable for a person." Families are stunned by the news and devastated when they learn how it affects their children. It is also believed that WWE wrestler Chris Benoit's seven year old son, Danny, had Fragile X. Real Moms, Real Stories, Real Savvy was on the cutting edge last year when they brought PBS viewers a story about families living with Fragile X.
This series' lead writer and researcher is Elaine Stillerman, whose son, Luke is afflicted with Fragile X. Elaine appeared along with Katie Clapp, FRAXA Medical Research Foundation Founder and President, and Nobel Laureate Dr. Susumu Tonegawa, PhD. The informative story takes viewers into Elaine's home to see what daily life is like for her and Luke. The segment also shows Dr. Tonegawa at work in his laboratory and highlights the exciting advances they are making towards finding a cure. Katie was also honored as a "Real Savvy Legacy Mom" for her struggle and determination to find a cure for not only for her son, but for thousands of afflicted children worldwide.
Before the tragic Chris Benoit double murder and suicide, Fragile X was unknown to most people. "Real Moms" featured this syndrome to educate the public long before Geraldo at Large, Larry King, Inside Edition, Nancy Grace, Boston Channel 5 News, the Boston Globe, and People Magazine told their stories after the tragedy. Stillerman was also featured on Geraldo at Large talking about the effects of Fragile X on families.
Real Savvy Moms is proud to raise awareness in announcing a major breakthrough in the research for finding a cure for Fragile X.
FRAXA has been lucky to receive a very generous donation by Doris Buffett of the Sunshine Lady Foundation. Ms. Buffett donated $500,000 for research and made this challenge: if FRAXA could raise another $500,000 by November 1, 2007, she would match it. FRAXA has still not reached its goal. Real Savvy Moms is asking the public to log on to watch the FRAXA video and help fund the research towards a cure.
"Real Moms, Real Stories, Real Savvy" airs on WLIW, New York's Channel 21, Fridays at 2:30 PM EST and Saturdays at 7:00 AM.
About "Real Moms, Real Stories, Real Savvy"
"Real Moms, Real Stories, Real Savvy" is an award-winning series made for Public Television. The content spans from pre-conception to pre-K for both new and expectant parents with important social, life-style and health and wellness information. The series is supported by a community site at http://www.realsavvymoms.com featuring blogs, forums videos and the highly popular "Ask an Expert" section.
The series is produced by Morphogenix, LLC. 'An Evolution in Brand Communications,' http://www.mgxmedia.com.
Contact:
Beth Whitlock
Morphogenix, LLC 212.244.3456
beth @ mgxmedia.com
###