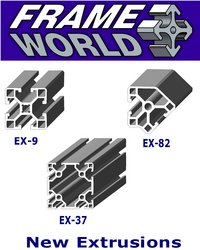 Lake In The Hills, IL (PRWEB) January 22, 2009
We, at FRAME-WORLD, never content to rest on our T-Slots, have increased our line of aluminum extrusion profiles with 3 more significant profile shapes that reflect where the manufacturing and automation industries are going.
These profiles are light, lean, and economical. We are offering a new and lighter 1-1/2" x 1-1/2" extrusion. Our new ultra-light EX-9 is 17% lighter than EX-6 and almost as strong. Our new 3" x 3" EX-37 is a light version of our EX-3 extrusion profile. EX-37 is 30% lighter than our heavy-duty EX-3. As much of the t-slot aluminum extrusions are being used for guarding and non-bearing applications, these two profiles are excellent complements or replacements. Our new EX-82 extrusion profile is a 45 degree 1-1/2" wide extrusion that will give your customer many more creative options for safety and machine guarding design and function.
All three new extrusions are made of 6105-T5 aluminum alloy, are clear anodized, and available from stock right now, at FRAME-WORLD.
Please visit our website at http://www.frame-world.com for specifications and more information regarding these new extrusions and all of your aluminum extrusion profile and safety guarding needs.
###