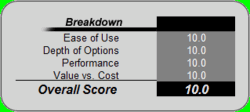 It is incredibly easy to use, has so many cool, appropriate features for filmmakers that it's a Godsend!
San Diego, CA (PRWEB) August 31, 2012
Innoventive Software, makers of the award-winning desktop previsualization software, FrameForge Previz Studio, are pleased to announce an end-of-summer sale on all FrameForge Previz Studio Products.
For a limited time, get 20% off all FrameForge Products, including Academic Versions, Upgrades, Full Versions and Expansion Packs. To get this discount, enter the coupon code FALLPREVIS20 in the FrameForge3d.com shopping cart during checkout.
FrameForge Previz Studio 3 is previsualization software for Windows and Mac OS X designed to put the power of previs into the hands of directors and cinematographers.
Josh Winterson, of Ivywood Studios recently said of the program "We are on our final days of shooting. and I have to say, FrameForge has been AMAZING! This production would not have gone the way it has without FrameForge; the crew has needed to only take one look at a shot, and they knew exactly what needs to be done, but what's more, it's allowed greater creativity and freedom for the whole team as it feels like all of us have been working on set for months. I'm so familiar with the set that when we set up our first shot I was solving problems before they arrived."
This sale is for a limited time only, so now is the perfect time to move up to the power of previsualization at the best price of the year.