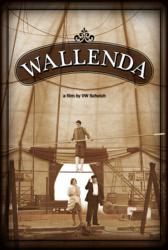 One of the best decisions I ever made on my film "Wallenda" was using FrameForge Previz Studio 3D at the start of my project.
Los Angeles, CA (PRWEB) February 29, 2012
Director VW Scheich knew that his short film "Wallenda" -- now on the festival circuit -- was an ambitious project from the beginning, since it was going to be shot against a green screen, and all of its distinctive backgrounds – a German tavern, circus tent and an opera house – were to be created in post using computer graphics.
To meet the VFX challenges of this project (over 250 VFX shots) and to ensure that he spent his limited shoot days getting the footage he needed for the final edit of the film, Scheich spent a great deal of time previsualizing the short film using FrameForge Previz Studio.
"FrameForge Previz Studio 3D was essential to this film's success," said director Scheich. "Unlike traditional storyboards, FrameForge allowed me to use real world camera angles and lenses in planning each shot, which was invaluable in shooting in a confined green-screen environment. I was able to determine not just what shots I wanted, but actually how to shoot them. I quickly discovered that while some angles worked, others needed significant adjustments. By making these changes in preproduction rather than on the set, it saved us a huge amount of time and money."
The production team also used a novel approach of having two sets of printed FrameForge storyboards during the shoot. The first version was for the crew and showed the actual green screen stage so everyone could easily and quickly plan for the next setup. The second set of storyboards showed each shot but with the final backgrounds in place so that the actors had a much better sense of the final look of the scene, which really helped them mentally place themselves in the setting and inspired their acting.
"One of the best decisions I ever made on my film "Wallenda" was using FrameForge Previz Studio 3D at the start of my project, because without it, we might never have finished the film at all!" Scheich said.
Scheich explained that he'd originally intended to shoot "Wallenda" in stereoscopic 3D since he felt that a film about a high wire walker naturally lent itself to stunning images of heights and depths that would be truly enhanced by the third dimension. But after he used FrameForge's S3D capabilities to plan the shoot using a stereo rig, he realized that doing so would dramatically change the look of the film, and require much more time and money to complete. This led Scheich to make the crucial decision not to shoot in stereoscopic 3D since it just wouldn't fit into their budget, and he opted to shoot with a mono camera rig instead.
"Using FrameForge 3D is like having 20/20 hindsight," Scheich added. "I worked in a post production facility for many years and all these problems we had to fix in post, I was able to fix in my preproduction planning, before they ever happened. I can't imagine doing another film without it."
Wallenda is now being recognized at numerous national film festivals, including the prestigious 36th Cleveland International Film Festival (an Academy-qualifying festival), running March 22 – April 1, 2012, in downtown Cleveland, OH.
###